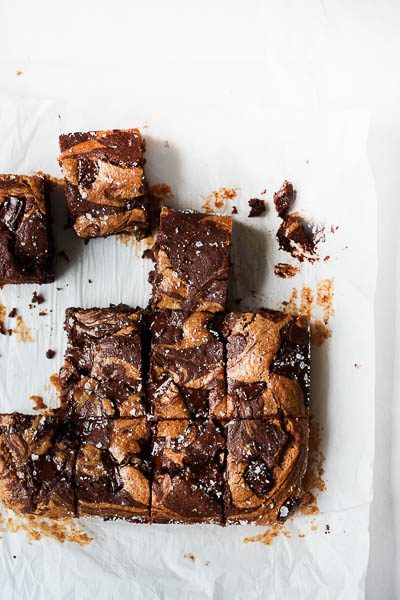 Chocolate & almond butter swirl brownies
---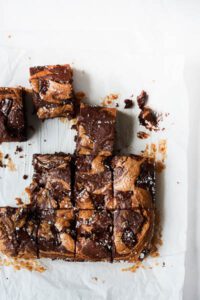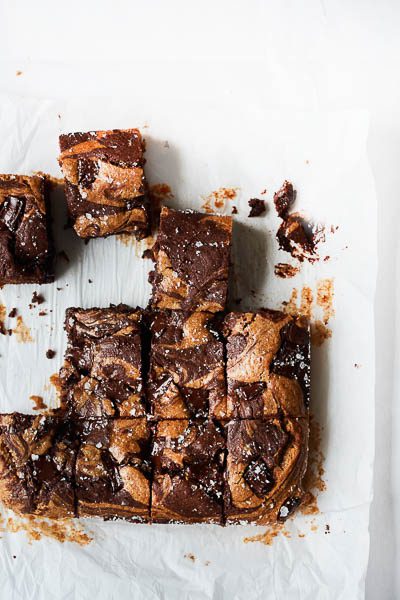 INGREDIENTS
For the chocolate batter
200g dark chocolate, chopped into 5mm chunks (150g for melting, the rest for the top)
100g coconut oil
100g white spelt flour
100g golden caster sugar
½ tsp baking powder
2 organic eggs, or 8 tsp flaxseed
1 tsp vanilla extract or paste
For the almond butter batter
75g golden caster sugar
1/2 tsp baking powder
1 organic egg, or 4 tsp flaxseed
1 tsp vanilla extract or paste
100g smooth almond butter
METHOD
Heat the oven to 180°C/160°C fan and line a 20cm x 20cm brownie tin with baking paper.
For the non-vegan brownies:
For the chocolate batter, melt 150g of the chocolate (saving the rest for the top) with the oil in a small pan over a low heat. Whisk together the dry ingredients. Create a well in the centre of the dry ingredients and add the eggs and vanilla. Stir to combine. Pour in the melted chocolate and give the batter another stir until the chocolate is mixed through. Make the almond butter batter by whisking together the sugar, baking powder and a pinch of salt in a large bowl. Add the egg and vanilla, whisk again, add the almond butter, stir until well combined and set aside. The batter will be thick.
For the vegan brownies:
Follow the steps above, replacing the eggs with the flaxseed. For the chocolate batter, mix 8 tsp of flaxseed with 6 tbsp of warm water in a separate bowl. For the almond butter, mix 4 tsp of flaxseed with 3 tbsp of warm water in a separate bowl. For both mixtures, leave to thicken for 15 minutes before using.
Dollop alternate heaped spoonfuls of each batter into the tin. Once all the batter is in, use a butter knife to swirl it in figures of eight. Top with the remaining chocolate, pressing each piece slightly into the batter, then sprinkle with a pinch of flaky sea salt. Bake for 25-30 minutes, until the brownies are just set with a little wobble and the almond butter swirls are golden. Take out of the oven and leave to cool in the tin completely before cutting.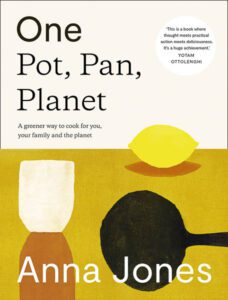 Recipe extracted from One: Pot, Pan, Planet by Anna Jones. HarperCollins. RRP $54.99
---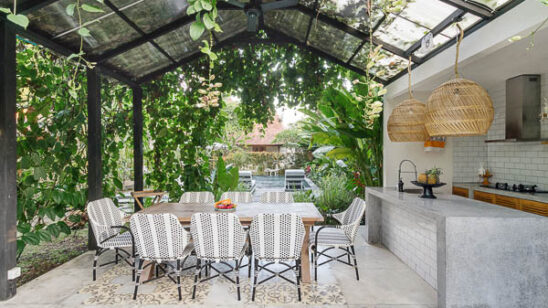 Previous Post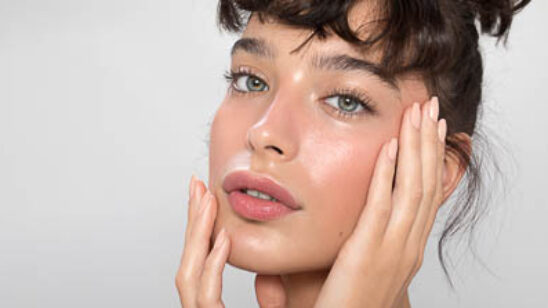 Next Post