---
A Christchurch rooftop garden that is small on size but big on innovation won gold at the Registered Master Landscaper awards recently. Natural Habitats installed the roof using an eco-pillow system. Weight is a natural concern when installing a green roof but the eco pillow system is lightweight, requiring no extra structural changes and has the added benefit of providing ideal growing conditions for plants.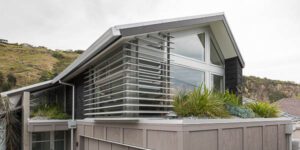 The system utilised for both green walls and roofs uses recycled polystyrene that has been manipulated to mimic soil.
Incredibly, the plants behave like they are planted in soil and are happy living in materials removed from our countries' waste stream.
The lightness of the polystyrene means green roofs are constructed off-site and then moved into place with established plants.
Because the polystyrene is so light, the pillows of plants can be easily moved on to the roof of the building.
The company's South Island Regional Manager Ashley Shadbolt says, "Our cities need to be climate compatible and green roofs are fantastic because they can play a significant role in helping New Zealand reach its net carbon zero goals – we just need more of them."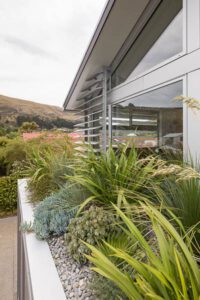 Rooftop and wall gardens contribute to better air quality, reduce city noise and provide a layer of insulation resulting in energy efficiencies.
They can keep buildings cooler in summer and warmer in winter. They also mitigate stormwater runoff and provide a habitat for birds, bugs and bees.
"We were delighted that the landscape architect and client chose to use the eco pillow system, it being the first to be installed in the South Island. This project proved green roofs can fit in perfectly in the residential environment as well as commercial," Shadbolt adds.
Plants were carefully selected for the Christchurch climate, and a low-maintenance easy-to-manage irrigation system adds to the roof's suitability for residential use.
Natives and exotics make up a mix of 13 beautifully textured species of 115 specimens, including succulents, ground covers, shrubs and Mexican grass trees.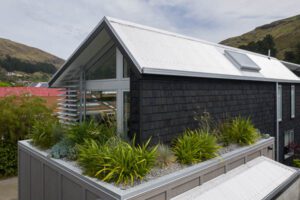 ---