---
A is for axe heads created from K' Road kauri tiles, B is for beehives woven from straw, C is for ceramic rock-pops complete with ceramic sprinkles and wrinkled wrappers… all these and more will be available on 8-10 November when Sculpture on the Peninsula opens.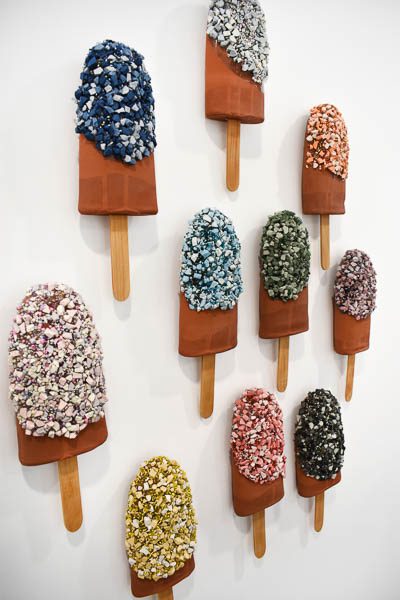 Sculptors throughout New Zealand are drawing on inspiration from many different sources as they prepare their works for the South Island's largest outdoor sculpture exhibition. Sculpture on the Peninsula kicks off on Friday 8 November and more than 70 artists are creating unique works for the biennial charity event.
Danny Summers' stone hearts are a tribute to his late father, Llew; Rob Upritchard's colourful monkeys are repurposed from plastic waste, and Hannah Kidd's water tank heads frown in consternation from the ridge line above the paddocks.
Hearts, heads, hives, brilliant bronzes, still life's from riverbank rubbish and steel infinity staircases topped with decorative dresses are just some of the amazing sculptures on offer. Everything on show is for sale and proceeds from the event are donated to Cholmondeley Children's Centre – a residential care facility for children in crisis.
Tickets ($75 per adult) for the Grand Opening and auction of 'frames of fancy' on Friday 8 November are available now. The gala opening event is followed by a weekend of entertainment and visual extravagance at the spectacular 'farm gallery'. Pack a picnic or grab a bite from the innovative catering caravans and stalls onsite and be inspired by works from New Zealand's leading sculptors. Tickets at the gate; $15 per adult and children under 12 are free.
---