---
Mahsa Willis' eponymous label, Mahsa, shirks convention by releasing new collections, termed moods, every few years. Metropol catches up with the in-demand New Zealand designer about her latest mood, Enduring Nature.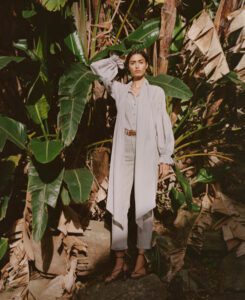 You don't follow the usual, albeit changing, pattern of seasonal collections. Please tell us why you take a different approach, and about that approach?
I found fashion was too fast and too surface and wanted to wear clothes that made me feel timeless and confident. I was tired of buying very expensive season-based clothing, it seemed quite meaningless to me and hard to justify financially. I also wanted to allow time for the design process and I think the work needs longer than six months to live and be understood. Each mood encourages a slow approach to purchasing, made up of timeless designs that women can feel calm about purchasing and with longevity in mind. Slowing down the cycle feels good and addressing our carbon footprint and building a sustainable business are also reasons for the slow approach. Fast fashion doesn't give women time to feel beautiful.
Your moods feature timeless and trans-seasonal pieces – blouses, oversized blazers and coats, and romantic dresses. What is it about these items which attract your attention, and what do these bring to a wearer's wardrobe?
Dressing is a part of everyday expression, I hope the clothes we make provide a sense of freedom and optimism in the chaos of modern life with enduring pieces that balance utility and romance, masculinity and femininity, reality and mystery.
Your most recent mood, Enduring Nature, is about the resilience and beauty of nature through change and catastrophe (a relatable theme for 2020). What inspired this mood, and how have you encapsulated this through your work?
I had just finalised four years of letting go of a past relationship, and managed to forge ahead and rebuild – maintaining my home, looking after my business, myself and my children. I had an overwhelming sense that I might bloom in 2020…but it wasn't as simple as that! Enduring Nature is about encouraging people to contemplate nature's lessons, and especially, nature's ability to endure. Just like seeing tiny wildflowers emerging from the cracks in the pavement – we are reminded that beauty is found in the hardest places. There are seasons of retreat and seasons of growth, we need to acknowledge the same in our own lives, it's okay to press pause, and it's also important to be resilient. The collection has a feeling of nostalgia with vintage themes, not specific trends.
The beautiful photo shoot for Enduring Nature (featured on our cover) was taken in Australia, during lockdown. How did this come about – and how was it orchestrated?
Because we were locked down in New Zealand, I had to trust my friend, Derek Henderson who I have previously worked with, to realise my vision from afar. We found this beautiful modernist house in Palm Beach called Treetops, by architect Peter Muller which was the perfect canvas, it had the right materials that felt raw – stone, wood and lots of tumbling nature surrounding it. We enlisted the help of the talented Karla Clarke, whom Derek had worked with in the past. We worked together but from afar and they both translated the philosophy of Enduring Nature beautifully.
You've spoken about how books, films and music keep you inspired. What have you been listening to, reading and watching lately?
I've been reading Conversations with RBG by Jeffrey Rosen and I'm halfway through Joan Didion's The Year of Magical Thinking. I read an excellent interview about John Lewis in Time magazine. Film, people ask me what I've seen and my mind always goes blank. I see so much. Unorthodox on Netflix was brilliant. Music, I've been listening to Palace – The Hoxa Sessions 2020 and an assortment of jazz and classical music.
---