---
It was truly an occasion to remember when Fitzroy of Merivale resident, Betty Davies, celebrated her 100th birthday on 8 June.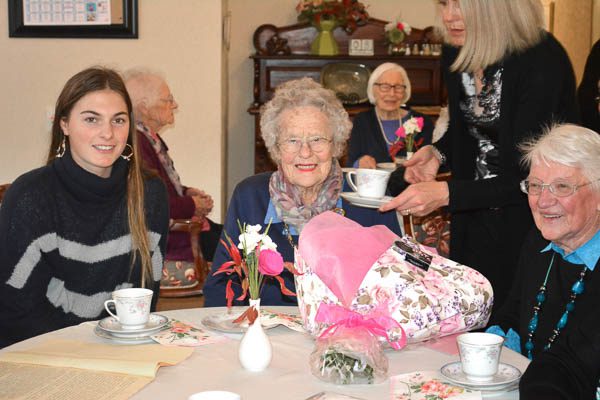 After a wonderful lunch out with family from the North Island and Tasmania, Betty's celebrations continued with an afternoon tea in the Fitzroy lounge at 2:30pm, where surrounded by fellow residents and Fitzroy staff, Betty blew out the candles on her birthday cake.
Betty was born in Wairarapa and left school at 13 to help at home. At 18 she left New Zealand to embark on a world tour. She trained as a nurse in Oxford, England, and worked in hospitals in Oxford and Coventry.
But that wasn't enough for our intrepid Betty. Her thirst for adventure encouraged her to sign up and serve in the British navy, having the time of her life discovering more and more countries around the globe.
Before she joined the navy, Betty met a lovely Welsh gentleman by the name of George, who was an agricultural engineer. Eventually George popped the question and Betty found herself married and experiencing new adventures – but this time on land, including three years in Holland. Betty and George moved back to New Zealand in 1970.
Betty, having moved to Fitzroy of Merivale in 2008, is their longest residing resident. She has been an avid theatre goer and took a great interest in attending lectures in the city. Betty thoroughly enjoyed her day celebrating a well lived life of 100 years.
---