---
Peter Wynyard of Wynyard Design Studio says a unique part of the development of Rai House in Wood Lane lies in the history of making it happen.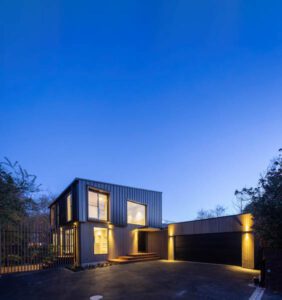 "Given the location and its vulnerability, there was a lot of strict criteria around the new build that involved insurance people, the council, plus a host of specialist consultants and structural engineers", he says. "These things don't happen overnight."
The beauty in the completed +Rai House is that the site was finally utilised as it should have been.
"From an architectural point of view, we asked the client to engage with the site in a way they never could have before," says Peter.
The result speaks for itself. This beautiful bespoke four-bedroom home was built for the contemplation of the Avon flowing gently past its banks, as well as to delight in the surrounding flora and visiting birdlife.
Clad in vertical cedar with a tray metal cladding and glass balustrades, the set-out of the landscaping structural steel and cedar fins was an important feature.
The cedar on the gates runs parallel with the cedar on the wall and interlocks when the gate opens to deliver a really crisp finish.
A complex site prone to occasional flooding, the home was built in multiple stages and brought to life by several teams of trade experts; the finished product a testament to Wynyard Design's ethos of collaboration.
Contact Peter on 03 366 0664 or pete@wdstudio.co.nz.
---