---
Friends helping out friends, and businesses building each other up, is what Cantabrians do best.
'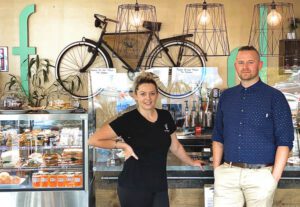 Café and bar owner Stu McDougall was eternally grateful to have his entrepreneurial buddy, Ben Hogg, weave some infamous Purple Weka magic online during lockdown.
He kept loyal customers entertained, as nothing was coming out of the kitchen for four long weeks.
With a communications degree from Massey and a ten year stint as a marketing executive in Christchurch, the 31-year-old launched his own enterprise in January – www.marketable.nz – helping the "small guys" engage closely with customers.
Ben has always enjoyed helping others to harness creative ways to grow their business.
"It's something I've been doing for years anyway, helping out friends like Stu.
We met when I moved down from Palmy. I stayed with him and he showed me the ropes of local life.
Helping with Stu's social media, I wanted to capture the thing that makes his café such a special place for customers, so I spent a whole day at the café to get a feel for the banter I'd come to associate with knowing Stu."
When reading Stu's hilarious 10 commandments for level 2 on Facebook, no one would suspect that Ben was the social media guru behind the scenes.
"We also felt it was important to support Stu's team by sharing their side-hustles too, such as Cassidy's photography, Hayley's nail business and Jacinta's keto-friendly cooking.
"Businesses succeed when they collaborate and we all need to look at ways to complement, rather than compete, with each other."
---