---
At 8 Crisholm Crescent in the new Boulder Point Precinct at the wonderful Hanmer Springs is a 1950s American style diner, designing burgers with both American and Kiwi interpretations.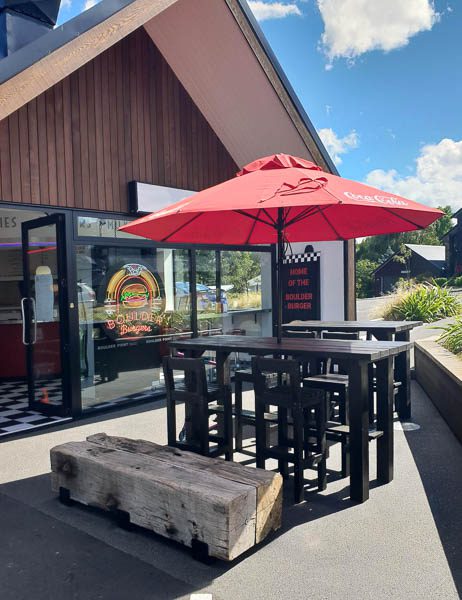 Why not try the 'New Zealamb'; battered roast lamb, tomato jam and onion rings in a customised burger bun (fresh from Hanmer Bakery daily) or the Philly cheese Steak – so tender, blanketed in a rich Philly cheese sauce, with fried onion, pickles and capsicum romping along for a sweet ride.
Mmmmmmm yeah. There are old favourites and new tempters to try – combos and specials. Where's the sauce? Why it's in the burgers of course – a full range of sauces, mayonnaise and tasty condiments are available, along with locally supplied produce from the cornucopia that is North Canterbury and the Hanmer district.
It's doesn't have to be summer to enjoy Soft Serve Soda Floats, milkshakes, thick shakes, sundaes and, of course, gluten free is available. There's nothing better than a great burger and fries to fill that hole in your stomach after expending so much energy on the adventures to be found in Hanmer Springs and Boulder Burgers has the perfect combinations for you.
Southern-fried chicken North Canterbury style is coming soon to add a bit of spice to your life! Biodegradable packaging is used wherever possible because this is a team that thinks about the importance of being ecologically responsible.
Open every day, with winter hours 11am-2:30pm and 5pm-late weekdays, weekends 11am-8:30pm. Boulder Burgers – committed to creating your ultimate burger!
---