---
For 10 years now, Loobie's Story has been adding the bohemian beauty to our wardrobes. Metropol catches up with founder Laurinda Sutcliffe about the brand's exotic evolution.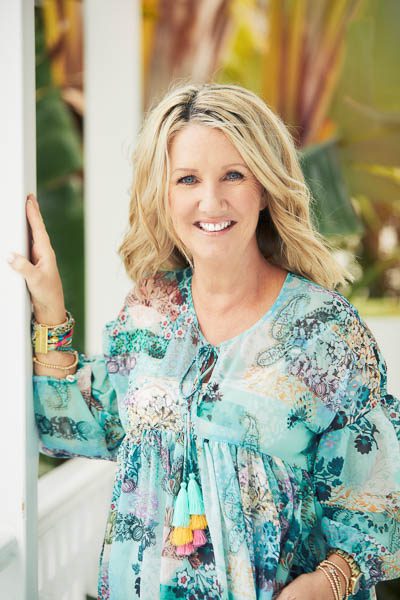 You're celebrating an amazing 10-year milestone in business… How did Loobie's Story come to be?
Loobie's Story started when I found myself suddenly let go of my job as a creative director in fashion, a job that I had lived and loved for 20 years. Sitting at my dining room table with my husband Brent (about the same time he sold his menswear business), I decided it was time to venture into womenswear and create my own path, and so Loobie's Story was born. I wanted to create a brand that was bohemian, light and fun – inspired by exotic locations and my love of travel. I feel so lucky to have been able to grow Loobie's Story to what it is now over the past 10 years, with much more still to come!
---
What's the story behind the name?
In a nod to my new business partner (my husband Brent), we named the brand after the nickname he affectionately made up for me when we first met, Loobie. Inspired by a blonde, blue-eyed little girl in an advert for washing powder – someone he thought I might have looked like when I was little. Now all of my nearest and dearest call me Loobie.
---
You're now stocked in an impressive 140 stores! Why do you think New Zealand women have connected so strongly with the brand?
We started Loobie's Story in a time when nearly everyone else was doing black and I think New Zealand women loved the bohemian spirit and colour in what we were doing. We continue to create each collection for a woman who is not afraid to buck the trends or stand out in a crowd whilst ensuring that every piece is still incredibly wearable. We're inspired by far-flung exotic locales, to create pieces that can be loved as everyday wear or occasion wear for women across New Zealand and Australia. I think these core pillars of our brand are some of the reasons that New Zealand women love Loobie's and we've amassed such an amazing network of retailers across New Zealand and Australia over the past decade.
Sustainability is something you're increasingly passionate about. What are some of the sustainability measures you have in place?
Sustainability is a growing focus for our business and something we're committed to. Each season our team mindfully designs collectible pieces; styles made to live comfortably in wardrobes for years to come. At the same time, our technical team work hard with suppliers to ensure the quality of our fabrics and garments will also withstand the test of time and a life well-lived. We recently released a roadmap to our sourcing and manufacture processes online, a source of information for customers that covers the areas of ethical design, responsible sourcing, the environment, people and a garment care guide which will be added to regularly in the coming months and years.
---
How would you describe the Loobie's Story design philosophy?
The design philosophy for Loobie's Story is all about understated glamour, beautiful prints, joyful colour and natural fabrics like easy-care viscose, silk, and perhaps the ultimate combination of opulence and practicality – silk with a little stretch. We focus on bringing a little bit of luxury to the everyday whether that be an outfit for your 9-to-5 or something for special occasions. The more elevated pieces are complemented with the everyday styles that underpin any hardworking capsule wardrobe and are made in the same shades found in the prints across the range. The idea was to make it easy for women to combine and layer our garments with complementary colour palettes that merge across seasons so they can confidently pull their own look together, whatever the occasion.
---
What do the next 12 months have in store for you?
We will continue to ensure that we keep delivering what the market wants from both our brands, Loobie's Story and Madly Sweetly, with collections that inspire our customers and fulfil their needs. Of course as a design team we are focused on integrating as many sustainable fabrics and yarns into our collections as possible to ensure that we are playing our part in protecting the environment. There are a few other exciting plans in the pipeline too… watch this space!
---