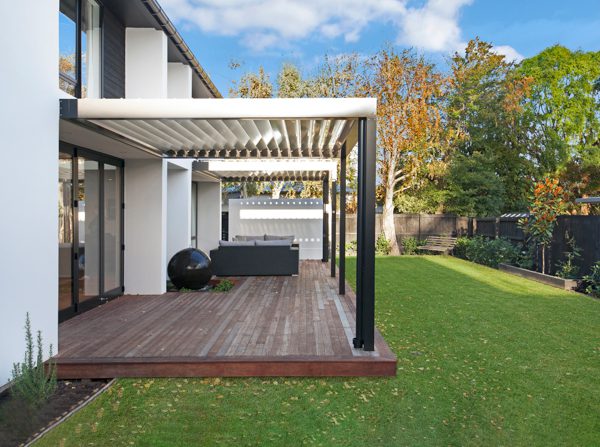 Year-round outdoor spaces: Louvre Solutions wants to help you get that indoor outdoor flow for all seasons
Sleek, stylish and contemporary – louvre roofs not only look great but transform your space for year-round outdoor living.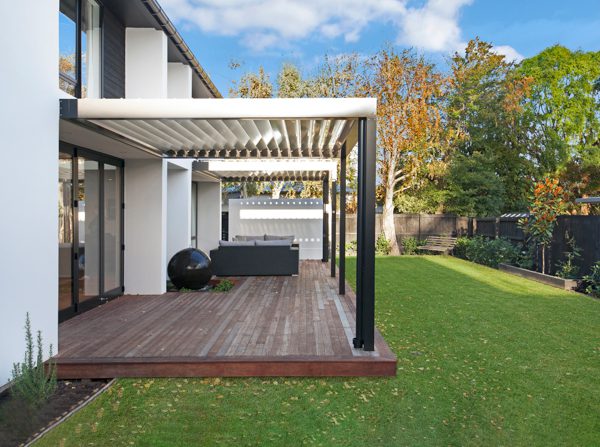 Louvre Solutions' product range includes motorised opening louvre roofs, elliptical sun louvres, privacy and security screens, gates, fences, chimney cowls, and bracket fixed/end fixed louvres.
Providing shelter and privacy, while allowing for light, shade and airflow control, a constantly evolving selection of added value products ensures function, comfort and efficiency – whatever the season. From integrated heating and side screens to enclose the area, to vertical sun shades, side curtains and LED lights, the company has a commitment to ongoing product development.
"Now is an ideal time to get your louvre roof installed, before winter arrives," says owner Craig Rogers, who has significant experience in the architectural louvre industry. The custom-made louvre roof product, with bespoke features like powder coated colouring tailored to the client's needs, is manufactured at the business' own local factory.
Proudly based in Canterbury, the company has agents around the South Island, including representatives based in Nelson, Marlborough, South Canterbury, Wanaka, and Queenstown. "I work with our clients throughout the entire process for every project, from design to manufacturing and installation – this relationship is very important to us. I know what works and what doesn't, both from a practical and aesthetic perspective."
A customised, automated louvre roof over a patio, spa pool, or deck, or as a freestanding feature anywhere on a property, provides a space sheltered from the elements. The product is a brilliant addition to homes and can be proactively planned as part of the design and build process, or retrofitted post-construction.
With more than 10 years in the industry, the business' reputation has been built on a solid foundation. Craig and his team pride themselves on their impressive portfolio of repeat and referred business, generated through word of mouth and a robust network of contacts, including independent builders, building companies, architects and landscape architects – all of whom recommend the company to potential clients.
All products come with a 10-year warranty and attending to any adjustment needs that may follow is all part of the service, Craig says. "It's about building a product that has not only been engineered correctly but also installed correctly. And it's imperative for our clients to know they are dealing with an established and reputable company, for peace of mind and a stress-free experience."
Visit www.louvresolutions.co.nz for more information, or phone 0275 356 286.