---
Mental health is a huge issue in New Zealand currently with calls for more funding, and more understanding of a problem that affects young and old, male and female alike. One man with personal experience is author and psychologist Paul Wood.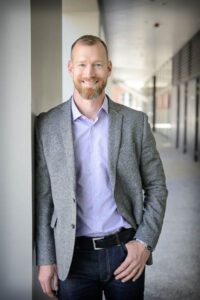 At 18, he was in prison and his life was completely off the rails.
Now, as a Doctor of Psychology Paul uses his subsequent journey from delinquent to doctor to illustrate the process of transformational change and how people can become the best possible versions of themselves.
Also, a motivational speaker, leadership and personal development specialist, husband and father, Paul has just published his second book Mental Fitness, following on from an initial bestseller, How to Escape from Prison (2019).
In his latest book, Paul coaches readers about how to become both mentally fitter for the future and how to be better at managing the capacity that they have to deal with the challenges they encounter.
"Mental fitness combines the mental toughness needed to remain effective when emotions are running high, and the resilience to bounce back and recover when the pressure is off," he says.
"Like physical fitness, it is something we can all proactively build and need to maintain in order to be anywhere near our full potential. Also, like physical fitness, it is normal to struggle and get fatigued."
In his work today, Paul assists others pursue excellence, have more meaningful lives, and flourish through adversity by enhancing their capacity to cope effectively under stress and recover and grow afterwards.
He does this through his deep knowledge of psychology, the insights he gained through his own journey, and his experience of working with elite performers across industries and occupations.
Paul wrote about his own journey in the instant bestseller How to Escape from Prison (2019).
Resident in Wellington, he contributes regularly to the media and works with several charities that focus on helping young men avoid prison or reintegrate effectively on release.
While his own experiences of flourishing through adversity and post-traumatic growth feature, he says it is not just young men at risk.
"The techniques and insights in Mental Fitness bring together tens of thousands of hours of experience in helping others build their mental fitness across industries as diverse as technology, government, the defence force, insurance, education and professional sports."
---