---
There's every reason to celebrate at Georgies Wig Shop, for on 7 March the company celebrates its third birthday, and owner Eleanor Burgess and her Christchurch team are very excited.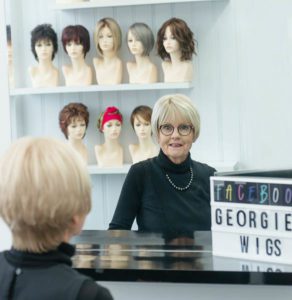 "It's a wonderful recognition from clients," Eleanor says. "The relationships we've built with them have seen a growing and loyal customer base. Christchurch seems happy to have Georgies Wig Shop serving their needs."
Eleanor has been hairdressing for more than 40 years and knows full well how a great head of hair ramps up happiness levels.
Having had a close friend suffer hair loss due to cancer, Eleanor also knows the despair people feel when faced with chemotherapy side-effects.
It was this that prompted her to do something to help.
Georgies Wig Shop is New Zealand's largest wig stockist, with more than 500 quality real and synthetic haired wigs in a wide range of styles, lengths and colours, as well as hair pieces and additions.
Wigs transform lives – from people suffering hair loss from cancer treatments or alopecia through to the transgender community, performers, or those simply wanting a whole new look!
Private consultations are available in the salon, at home or in the hospital.
The real hair wigs can be foiled, curled and straightened, much like the client's own hair.
"We love to help those with hair loss, working with clients to help find a wig or hair piece that restores confidence and makes them feel completely themselves," Eleanor says.
Find Georgies Wigs at 570 Barbadoes Street, phone 03 385 6696 or check them out on Facebook.
---