---
Creating an accepting atmosphere where artists are free to explore, learn and express themselves is the aim of Art Metro's owner Simon Walmisley, who pointed us in the direction of adult student Grant Philip to talk about his life and experiences.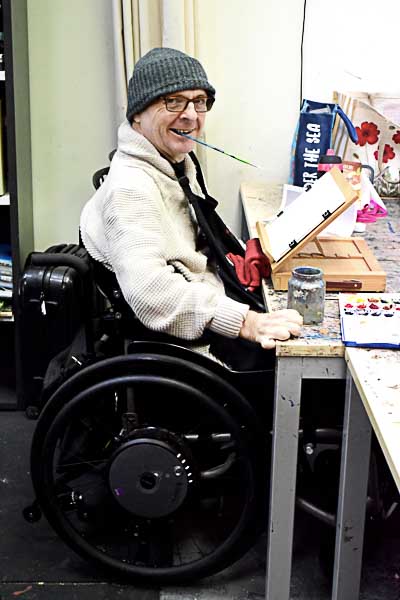 Grant began mouth painting in 2002 after being injured in a diving accident as a young man. A former Territorial Soldier, he has continued to develop as an artist and also uses his knowledge to work with the Defence Force on its "Art in Recovery" initiative for personnel, ex-personnel and their families.
You never stop learning as an artist and right now Grant is focussing on working with watercolors, after mainly using acrylics, in the past.
He's loving his classes at Art Metro. "It has been great. I have been accepted for my ability and my art work, not my disability. You can paint at your own pace and the people here are very accommodating to everyone's needs."
By the way, you can possibly see some of Grant's more commercial work next time one of your children goes nuts at McDonald's. He designed the restaurants' playgrounds for many years!
Art is for everyone at Art Metro. Call Simon to find out more 03 354 4438 or visit www.artmetro.co.nz.
---