---
As plate after plate of beautifully presented contemporary fine dining dishes arrive at your table at The Monday Room, it becomes quite clear you can indeed trust the chefs. Or, more specifically, you can trust Eeva Torvinen and Annika Kiviniemi, the Finnish chefs behind the restaurant's exquisite social dining offering.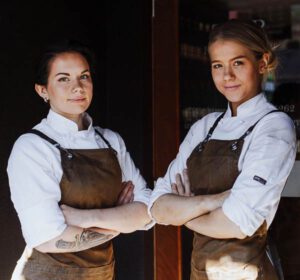 Owner Joel Christian says Eeva and Annika are the backbone of the High Street eatery, which consistently delivers an exceptional hospitality experience through its Trust the Chef and other menus.
The friends have settled in New Zealand after cooking their way around the world in large, fine dining operations, including five-star resorts 10-times the size of New Zealand establishments.
"Eeva and Annika are the entire backbone of our restaurant. They are the inspiration for everything that happens here and I feel really blessed to have them in our team," he says.
Head chef Eeva has been with The Monday Room since 2015, and sous chef Annika joined the team a few years later. Now settled in Christchurch with their Kiwi partners, Joel says the pair's skills, creativity and calm demeanours have created a winning recipe for the humble fine dining restaurant.
"What sets us apart is the is the level of quality coming out of that kitchen and being produced by the people in that kitchen."
And he is not wrong. About 90 percent of guests at the busy, plush-industrial restaurant choose the Trust the Chef option.
For just $55 per person, the table is adorned with two courses of beautifully presented sharing plates, each selection tailored for the likes, dislikes and dietary requirements of diners.
"If someone came three nights in a row, they would try three different meals," he says. The changing menu depends on the season, but does follow a format of starters, followed by a main course of a feature plate with a bevvy of creatively cooked accompanying vegetables and salads.
"It's not the same as tapas-style plates, but is big hearty portions with a selection of veges flared out in really interesting ways. It's designed to go down the middle of the table like you would at mum's Sunday dinner."
Currently serving its new autumn menu, diners can expect to be treated to tender cuts of venison. In spring you may find a 1.5 to 2kg serving of lamb and in summer, a whole fresh fish.
A nod to the chefs' Scandinavian roots, the cuisine combines high-end European bistro-style fare with fresh New Zealand produce, all presented colourfully on the plate. Attention to detail, harmonious flavour and texture contrasts, and impeccable service deliver a flawless, multi-dimensional dining experience.
For wine matches, you can also Trust the Somme and for dessert, Trust the Pâtissier.
However, Joel says patrons are not bound to sharing, they can order from the equally well thought out bistro menu, too.
"We just aim to leave people with their expectations exceeded, and that extends right through our offering from food to price, service and our wine list."
The extensive wine list is hand selected by Joel and is not tied to one supplier. Prices start at $9 for a glass and ascend to up to $400 to $500 for vintage cellared bottles.
Not to mention the huge selection of cocktails and artisanal spirits, and craft beer from Three Boys and other local brewers on tap.
Beyond the food and beverage offering, the fit-out of the two-storeyed red brick heritage building creates an intimate and connected atmosphere.
---