---
Tiki Taane wears a lot of hats – musician, experimentalist, musical activist, producer, live engineer, loving father and partner. But there's one more hat he's looking forward to wearing in the near future. We caught up with the prodigious talent about his romantic proposal.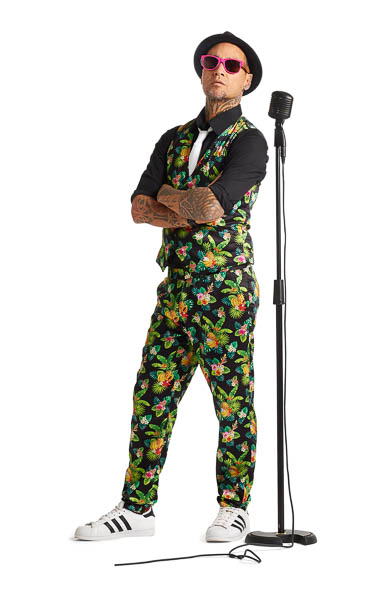 You've just recently proposed to your lovely partner Rachel in the most romantic way possible! How much time, effort and planning went into that?
I had the idea pretty early on in our relationship, but the process took just over two years of crafting and planning. Organising the proposal video so Rach didn't suspect anything was always going to be the hard part, but luckily my mum, kids and friends helped with the surprise.
The other sneaky part which took some time was the design and making of the ring. Rach's mum kindly gave me her old rings so I could get them melted down and turned into something new. So with help and guidance from Filigree Jewellers in Christchurch, we came up with the most beautiful ring that we are so blown away with.
---
Can you tell us about your new single that has just been released with the footage of your proposal and what the song means to you?
The song is called Serendipity which is a perfect description of how Rach and I first met at The Edgewater Resort in Rarotonga. It was definitely a love at first sight type scenario and one that we often reminisce about, as it's really special.
So with all that in mind, I wanted the proposal to be something that we could always look back on and celebrate, but to also hold our relationship accountable during those hard times.
---
You performed in a benefit concert, Brainwaves, for the Tourette's Association NZ on 6 July. How important is celebrating diversity to you and how amazing was the opportunity to get to give young New Zealand musicians with neurological disorders the opportunity to perform?
Brainwaves was a lot of fun and an awesome cause to get behind. The opportunity for the kids to play music on a big stage with big production was something they will never forget. Music can help so many people and can connect those from all walks of life; it was a real privilege to be part of that concert.
---
Can you tell us about your journey into music?
Well it's a story with a few ups and downs but in a nutshell, I knew at 13 years old that music was all I wanted to do. So I started my band at 14, was onstage at 15 and haven't stopped since.
---
Do you consider music to have been your saviour?
Yes, most definitely, especially during my early teens when I was young and reckless, then during my late 20s when I was drinking and drugging way too much, music helped pull me out of that destructive lifestyle. Music has enabled me to travel, explore countries, connect with different cultures, have adventures of a lifetime and take me places that I'd never dreamt possible.
---
What do you love about what you get to do?
I love that my job is about creating something out of nothing and that something then becomes a vehicle for me to travel and connect with like-minded people all over the world. That something can even be a catalyst for political, social, environmental, spiritual and conscious change, which is my ultimate goal when doing this music thing.
---
Speaking of catalyst for change, you are incredibly passionate about sustainability, can you tell us about your journey within this space and some of the things you do to live a more sustainable life?
I've been exploring ways of trying to live a more sustainable life where possible, which includes switching my home and studio to solar power five years ago. I've also had an electric car when I partnered up with Hyundai, which was an epic experience being able to charge the car via the energy we created from our solar panels. I feel bad about the carbon foot print I'm causing by travelling all the time, so I'm trying different ways of living that leave less stress on Papatūānuku – Mother Earth.
---
I understand you're also vegetarian. How long have you been vegetarian and how have you found that experience?
Yeah, I've been living a plant-based diet for four years now and it's been the best transition for me so far. I felt that by cutting meat out of my diet would not only help the planet and animals, but would also improve my health, which it has done big time. My kids still eat meat which is totally fine by me, but if they wanted to switch to a plant-based diet then I'd be all for it.
---
How does it feel to be in a position where you have the opportunity to inspire real-world change for some of these areas – such as animal rights – that you are so passionate about?
It's an awesome feeling knowing that my music and brand can help causes that I'm passionate about. I've always wanted to be able to do things like that. I'm inspired by people like Bob Marley, Michael Franti and Nahko Bear who invoke change through their music and lyrics, which is a powerful thing.
---
What do you consider to be some of your career highlights?
Surviving!
---
What is something that people would be really surprised to know about you?
I'm a very tidy person at home, perhaps a little OCD about it. I just like things to be neat and tidy, especially if I have guests coming over. But if it's party time, then I like to let it all hang out!
---
How does a day in the life of Tiki Taane look these days?
Well in the weekends I'm off around the planet playing shows and rocking out, then during the weekdays I'm in my studio making music for myself or other artists and, in between all that, I balance being a dad and partner while trying to keep my fitness up by going to F45 Mt Maunganui and Snap Fitness Papamoa. Oh, and walking our dog – that's a must.
---
What do the next 12 months have in store for you?
Touring the planet and making music in my studio is a constant, so that will never change. But I'd say planning a wedding will be the new project on the list. I have a feeling it will probably end up being a mini festival though, by the looks of all the musicians and singers who are on the invite list. At least I won't have to hire a band or any DJs!
---