---
Sometimes all it takes is a friendly prod to get those projects started that, for some reason, we haven't quite got around to. Christchurch author and, now, podcaster Rebecca Simons had just such a friend, and thanks to her, Rebecca stopped procrastinating.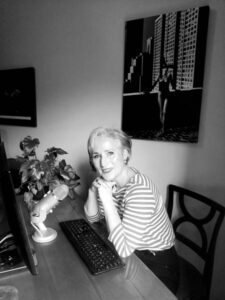 "My friend kept reminding me I had the knowledge, expertise and skills and it was time I shared my life experiences to a wider audience. After some research on podcasting, I jumped right in and recorded my first show."
Blind Girl Drunk first aired on January 8 last year, and since then Rebecca has recorded over 70 shows with over 1500 people downloading the programme to date.
Rebecca has Stargardt Macular Dystrophy, an eye disease which causes progressive damage — or degeneration — of the macula, a small area in the centre of the retina that is responsible for sharp, straight-ahead vision. Experts estimate that one in 8-10 thousand people have Stargardt disease.
Stargardt manifested towards the end of Rebecca's primary school years. Her sight had deteriorated to the point that she could no longer read the blackboard and she had developed night blindness.
Coming to terms with what would be her new normal was no easy thing for a teenager, but never one to be defined by her condition, Rebecca used what good sight remained and embarked on her OE.
On her return, she worked for a government department; she gained her Bachelor of Arts in Humanities, majoring in German; and she studied French and Spanish, the latter of which she speaks fluently.
Rebecca says the major driving factor in making Blind Girl Drunk was her desire to be not just a contemporary voice but also an alternative voice for the blind and low vision community.
"I wanted to share how the onset of low vision impacted me from my teen years right through to my experiences today, as a forty-something woman."
Rebecca says her show is to help educate sighted people on how best to deal with family or friends with blind or low vision, and to keep fellow blind and low vision people on top of things.
"We must keep up with the ever changing technological and practical things happening, so we don't get lost in it."
January 2021 sees Rebecca celebrating the first birthday of Blind Girl Drunk, as well as her other podcast The Kiwi English Down Under. Of BGD, she says that in voicing her experiences and validating them, it's made her more mindful in dealing with everyday life.
"By carrying a cane, I'm representing blind and low vision people, and I'm doing my best to bring a wider understanding to everyone in the community. It's really all about spreading my truth with a positive mindset!"
Listen to Blind Girl Drunk podcast on Podbean, Apple podcasts and Spotify.
---