---
Fionna Heiton could be Christchurch's very own Julia Roberts. From getting over a relationship breakup by leaving her job in New Zealand and travelling to the Himalayas, to finding her future partner and starting her own international charity in Nepal: It feels like Eat. Pray. Love got a Kiwi revamp.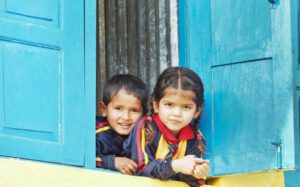 Our main character came to a crossroads in her life and, having always loved exploring the Port Hills, wanted to escape and explore the world's most famous mountainous region: The Himalayas. So, in 1998 the English as a Second Language teacher packed up her rental cottage on Kilmore Street and set off for Nepal.
It was there in Kathmandu, within a few days of arriving, that she met her love interest, Durga Aran, while working for British charity Water Aid. Fast-forward to 2001, the pair were raising their twin toddlers – Rhona and Jamie – when the parents became troubled to learn about the Nepali school system.
In 2001, the mean years of schooling for the country's 24 million people was just 2.5, according to UN data. In comparison, the mean years of schooling for New Zealanders was 11.5.
"Hundreds of thousands of children across Nepal spend their days in dark, dirty, empty classrooms, taught by poorly trained and demotivated teachers," says Fionna.
This was the motive that brings us to the climax of the story – the first steps. The family travelled to the village area where Durga was raised, in between Kathmandu and the Tibet border, with the goal of creating a quality early childhood centre.
"We borrowed a jeep and drove up to the remote hillside village each day. Our days were long, hot and dusty," remembers Fionna.
"But the need was so clear and we knew that simple activities and changes could make a world of difference for the children."
Thus, First Steps Himalaya was founded, a charity that has been making a difference in transforming lives and working on the ground in Nepal for over 10 years.
"With the help of generous donors, classrooms are developed from dirt floors to carpet. Rooms are cleaned and painted. Wooden pallets for seating are replaced with low tables suited to young children. Most rural Nepali early childhood classrooms start with only a single chalkboard, but after being refurbished by the charity, the children have access to crayons, paper, books and quality, culturally appropriate learning resources."
Having built a teacher-training centre in 2015, the team now run effective, hands-on teacher training courses across Nepal, empowering rural teachers to create simple, engaging lessons.
After learning how to make resources from things they can find in their village, teachers can then transform their own classrooms into safe and stimulating learning environments.
"We strongly believe the key to bringing about positive change in rural Nepali schools is the quality of the teaching," says Fionna.
Recently returning to Christchurch, after a period in Nelson, reruns of the past came flooding back to our protagonist.
"I am so grateful for all the support we have had from friends in Christchurch, the rest of New Zealand and around the world. There is such a massive need in Nepal, and we are only just scratching the surface. First Steps Himalaya will be there for the long haul."
So, what's next for Fionna Julia Roberts Heiton? We would not be surprised if Hollywood came knocking on her door with a story like that.
For more information or to donate visit the charity's website.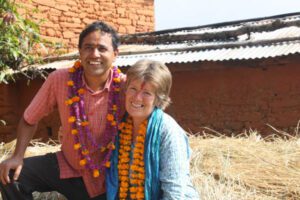 alaya
---