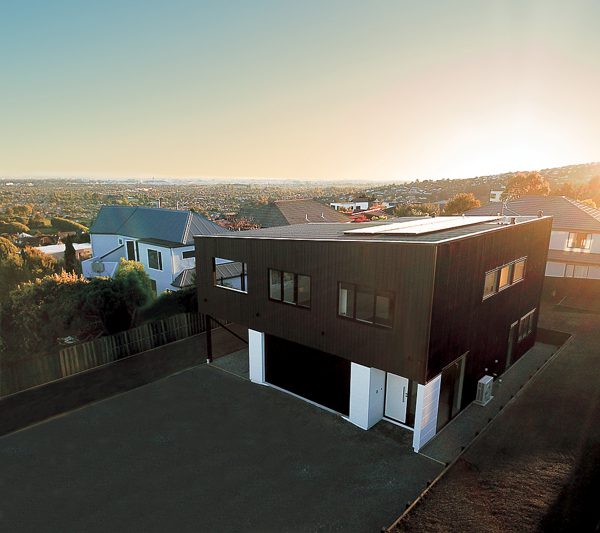 The future of building: Queenstown firm Rilean Construction is evolving to meet the Christchurch demand for energy efficient homes
When the Queenstown market leaders of energy efficient homes 'Evolution' (a division of Rilean Construction) wanted to expand to Christchurch, potential clients were keen and kept asking "is there one we can see?" There are 50 such homes, but they are all in Queenstown, so Rilean Construction Canterbury Manager/Director Trevor Meikle decided to build Canterbury the piece-de-resistance of energy efficient homes.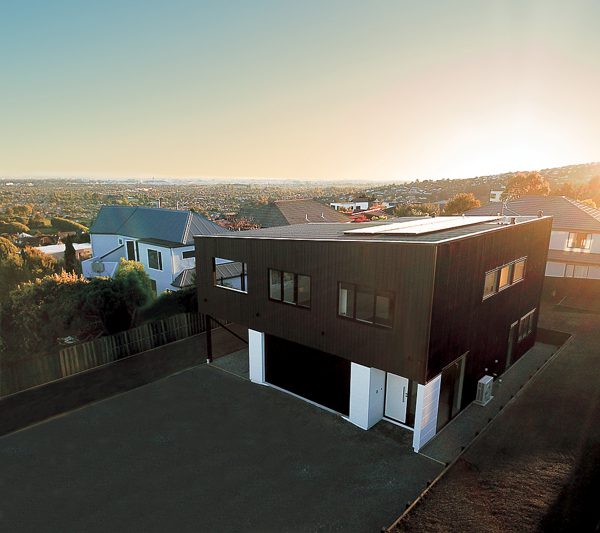 "A standard build has a Homestar rating of 2-3 and Evolution delivers a minimum of 6 stars," Trevor says.
This Christchurch beauty blew that number out of the park, coming out as a 7-8. The energy efficiency starts right from the base with a MAXRaft fully insulated slab. "This is the future of building – no power bills," Trevor says.
"Twenty solar panels with battery backup means we are set. The 10,000 litre tank collects rainwater, which is pumped back to toilets, the washing machine, the tub and external taps. The home has LED lighting and Wels rated tapware that reduces water flow from a standard 18L a min down to 6L," he continues.
"The bath is made from 30 percent recycled materials which also keeps the bath water hot for 30 percent longer. The decking is recycled plastic composite, there are fruit trees on the property and a vege garden to keep the fridge full."
Nothing has been overlooked, even the undercover washing line means it can be used in all weather so, no excuses.
The home is double insulated. After the first layer Proclima Intello Airtight is wrapped (including taping to seal the floor and windows), then the exterior walls have another 45×45 batten and another layer of horizonal insulation where the wires and pipes are blanketed. The wall insulation is R4.2 and the ceilings are R5.2, well above building standard.
A key factor in energy efficiency is the air tightness. "The 'Fairview' windows and doors suite was used on 'The Block' and got very high results for the airtightness test. This is why we picked Canterbury Aluminium to provide the windows. "The airtightness test for this home was incredible at 0.74 air changes per hour at n50. Canterbury Aluminium is exceptional at what it does," Trevor says.
The windows are thermally broken (a layer of plastic between) so exterior cold cannot transfer indoors. The home is mechanically ventilated with the 'Rolls Royce' of home ventilation systems: a Moisture Master Home Heat Recovery system.
The technology to manage such a smart-home is Econnecx: a system run from your phone or computer. "Everything is managed, measured and programmable," Trevor explains. "When you leave, it checks everything is off (except things like fridges), so power is not wasted. It allows you to control your security system, lights, heating or access gates and garage doors and turn appliances on or off whenever you choose. You can even unlock your front door for visitors if you are not there."
With a background of 30+ years in construction and project management, Trevor loves all the metrics and teaching clients about their smart homes.
Established more than 20 years ago, Rilean Construction has won numerous Master Builder awards, a coveted Trade & Construction Queenstown Chamber of Commerce award and received Queenstown's first six-star Homestar rating for an Evolution home.
Number 15 Dove Grove, Westmorland will open as a showhome on April 10, with viewing available on Tuesdays, Wednesdays, Saturdays and Sundays from 12-4pm. Visit evolutionseries.co.nz.