---
The Bate Joinery team has introduced virtual showroom tours and online design consultations to assist clients with their building and remodelling projects from afar.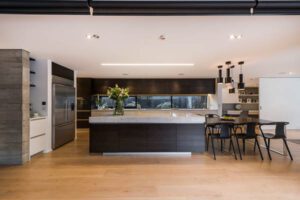 During the lockdown, owner Mark Allworthy says some members of the team were able to work through stages of the planning process remotely from their own individual bubbles, such as pricing up plans and designing kitchens.
However, the family-run company has now returned to full production under Level 3 conditions.
Bates Joinery specialises in all kinds of bespoke joinery, including kitchens, wardrobes, vanities, stairs and balustrades, timber windows and doors, wall units and commercial projects.
Using both modern machinery and traditional tools of the trade, they continue a skill that has successfully been handed down through the generations.
"Bates Joinery has been around for more than 60 years and has experienced several recessions, which we have managed to navigate," Mark says.
He acknowledges the support they received from Registered Master Joiners, clients and colleagues during the lockdown, particularly that of suppliers who kept them informed and updated on health and safety information.
To view a portfolio of work completed by the Bates Joinery team, visit their website and, for the full experience, ask about taking a tour of their virtual showroom.
For a free design consultation, email jaden@batesjoinery.co.nz or call 03 388 8111.
---