---
Jack Tame has spent 15 years keeping New Zealanders up to date on the biggest stories from around the world. Metropol catches up with the Christchurch-raised broadcaster about what it takes to take on the politicians ahead of an exceptional election.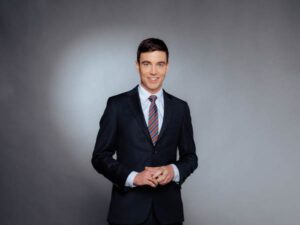 One of New Zealand's most recognisable television journalists, Jack Tame has been on our screens since he was hired by TVNZ at 19 years old. In that time, he's chased news stories across all seven continents – narrating the most defining events of the last two decades.
The 33-year-old spent five years as the state-owned broadcaster's foreign correspondent in New York, where his final assignment was the infamous 2016 US election.
Now, as the host of the hard news and current affairs show Q+A he's holding New Zealand's politicians to account amidst an unprecedented pandemic election.
"There are a few interesting dynamics at play," he says about the current campaign. "First of all, it's amazing to compare this election with the last election, I think of all the things this election isn't about.
"Over the last three years the government has had to deal with a series of massive crises. Most people would probably say they've been fairly successful in dealing with those crises and have done on the whole a pretty good job."
However, he says progress made on the domestic agenda – around mental health, child poverty and housing affordability – don't stack up with promises made ahead of the last time Kiwis voted.
"In a normal election campaign, the government might feel a lot of pressure from the opposition to deliver on their promises – but this isn't a normal election. Covid-19 has changed everything about how we live."
A fact which, Jack says, sees Labour and National offering similar solutions.
"I don't think there's a great deal of difference between our major parties when it comes to policies. It's almost like Covid-19 has brought them closer together than they might have otherwise been."
The build up to a general election can be a hectic time for journalists. Long hours, a lot of travel, and considerable pressure to be all over the ever-breaking latest news.
So what happens when that all-consuming period is extended another month?
"The only certain thing in the world at the moment is uncertainty, and journalists and newsrooms thrive in trying circumstances," he says.
"As difficult as this year has been for all of us, it has also been a rewarding year and a thrilling thing to be part of. It's not good Covid-19 is here or anything, but it's in these moments of crises that you feel like you're contributing to the greater good."
And it has been a year where audiences are more tuned into the news than perhaps ever before.
"The decision to move alert levels really impacts our lives in a significant way – so it's no wonder people have been interested," he says.
With that attention, though, comes extra scrutiny and criticism.
"I get a lot of hate mail. I just accept that that is part of the job. What I strive for is to be hated evenly. I want both sides to be calling me biased."
This criticism, however, is not always from the audience. A recent Q+A interview with Deputy Prime Minister Winston Peters made its own headlines when the political stalwart took offence to a line of questioning about NZ First allegedly leaking information about Green Party funding. During which, he called TVNZ a "disgrace" and called Jack "James" repeatedly.
"It was very funny," says Jack nonchalantly.
"He and I have had many interviews, many times and it was hardly the first time we've seen Winston Peters rallying against the media."
While such confrontations would make many people sweat, Jack says he backs his well-researched questions and believes Kiwis are owed the answers.
An approach which will only intensify as we get closer to polling day.
• The 1 NEWS Your Vote 2020 Election Night Special airs 7pm Saturday 17 Oct, and the Q+A Election Special airs Sunday 18 Oct, 8am, TVNZ 1.
---