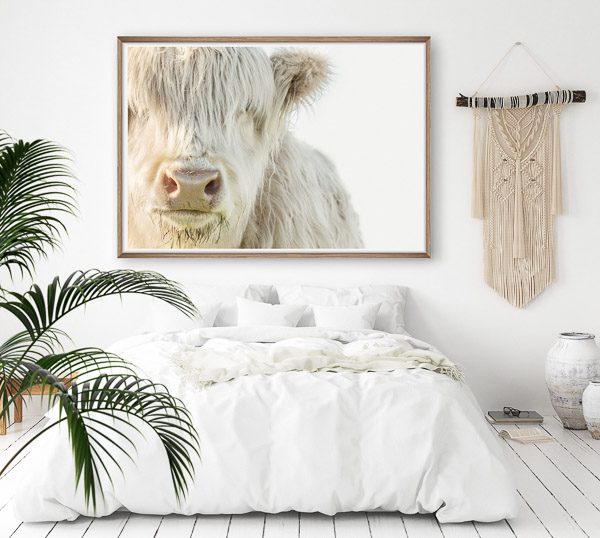 Taking life by horns: Amanda King
---
A Canterbury photographer with a unique niche loves telling the stories of the animals she meets.
Amanda King talks to her majestic models in a calming voice, while she takes their photograph for her company 'By the Horns'. The result is striking framed and canvas portraits of intriguing farmyard animals with personality. Originally from Brisbane, she started life swimming professionally and loving dance, before training as a primary school teacher. Then, while on her OE, in the UK 14 years ago, she met her husband Fraser on a sailing trip in Croatia.
The naive city girl, now 40, fell in love with the Kiwi countryside when living on Fraser's Windwhistle family farm. The couple then lived in Wairarapa, where Fraser was a rural banker. Amanda taught at an intermediate school there, and learnt photography in order to teach the subject.
"I just loved it and started a hobby business doing family photography." After having her children Greta, now 5, and Dudley 3, they moved back to run the family farm two years ago. Photography became her career, and it was then that a photo of Lacey, a friend's Highland cow, launched 'By The Horns'. A curious expression on a large canvas, peeping out from a hairy mop, captured the public's eye.
"It really took off on Facebook and was quite overwhelming. It's now taken over my life – but in good way." Amanda doesn't need to travel far for photo opportunities – Kiwi farmers with exotic creatures were all nearby. A Bison in Mt Somers, she says wouldn't be classed as beautiful, but its majesty is stunning. Water Buffalos live five minutes away, and Fergus and Morag, the Highland bulls, are just down the road. Whereas, Woopie the Angus cow "with the llama eyes" is a beloved family pet.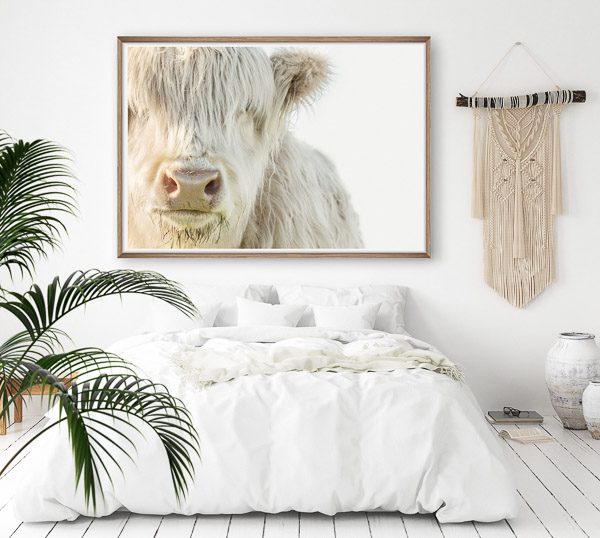 "The Black-nosed Valais from Sweden, are in Greta Valley and must be the cutest lambs in the world."  Bully, the Angus bull, was a commissioned work, but was so popular he became a limited edition.
The animals appear very striking on plain backgrounds. "The colours, and even the oak frames really suit our earthly interiors," she says. Amanda also gathers bouquets from her garden for her Botanical floral prints. She recently sold three large prints to a brewery in Texas – ironically, called By the Horns. "They're getting lots of attention. Selling in the US and UK is a goal."
Selling around 150 prints a month mainly in Australia and New Zealand, they are printed on museum-quality paper, and put on handmade stretched canvas or framed. Prices start from $75 to up to $900 for a larger limited-edition print. An average being $200 for an A1 size. They can be printed up to 1.5 metres "Working from home, I can be a full-time mum. I would love to have my own studio one day."
Amanda is keen to expand her menagerie – donkeys, llamas and wild Brumby horses. "I'm open to anything," she says, meanwhile an African safari is also in the dream plans.
---
By The Horns Fine Art at www.bythehorns.co.nz or Facebook.
---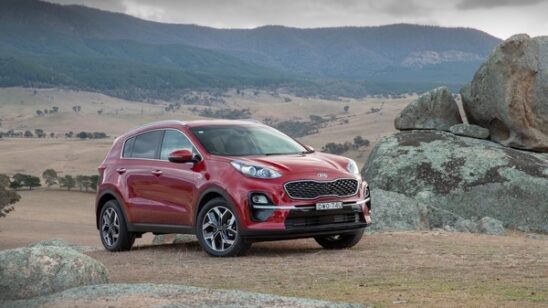 Previous Post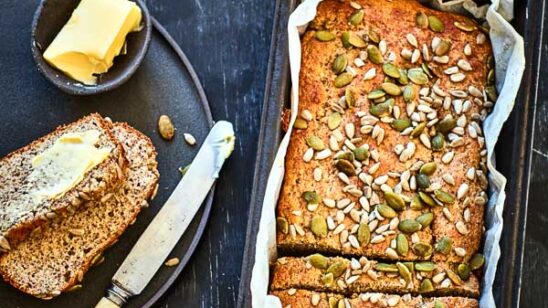 Next Post