---
When I picked up the Mercedes EQC 4matic from Armstrong Mercedes the only thing that rattled my head was that name, EQC. Something that, when I posted on Instagram, I got a few messages about.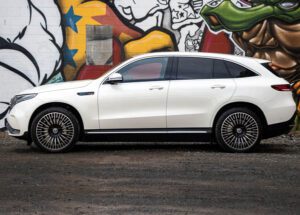 But as this beautiful machine glided out onto the motorway and I placed my foot on the brushed alloy AMG accelerator, all bad reminders were left 5.1 seconds behind me as this beautifully lined, refined electric vehicle took off.
I had Billie Eilish's Bad Guy pumping through the 13-speaker, nine-channel, 590w Burmester surround sound system with the interior AMG lighting system turning to a cool blue.
Gripping the multi-function Nappa leather sports steering wheel, that gnarly little smile crept onto my face and I knew I was in for a great day on the road.
Being fully electric, the EQC has a range of 354km, with the emergency AC-DC adapter for a backup option.
The electricity on a low output standard house plug just does not have the juice to power the battery fast enough if you are exceeding, like me, 80km a day.
You can recharge at stations around the city, but I highly recommend you install the Wallbox charging system.
This is a stunnin
g electric vehicle: a 300kw duel electric engine 0 to 100km on 5.1 (but it feels much faster than that), 4Matic all-wheel drive, 760Nm torque – all with a base price of $142,000.
I was going to write shocking to be funny but that would make it sound bad, and it is not in any way at all.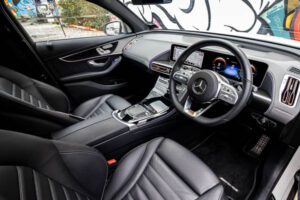 My model had some up-spec roller sun blinds and 21-inch multi-spoke wheels. The multi-spoke wheels are a total stunner as was the diamond white paint job.
Now it's not often an up-spec spins my wheels, forgive the pun, but it really does give a bespoke look to an already outstanding vehicle.
Back to back with the standard model there is quite a different look to it and damn it, it is sexier.
I took my friend Lisa out to get a woman's perspective on it. After a lovely lunch at Botanic we took a leisurely drive. Afterward I asked her what she thought.
The verdict? "Luxurious with impressive lighting and super sexy rose gold air vents, girls love that."
She went on to wax lyrical: "A gorgeous car, great lines. I absolutely loved it and it's the first car I've been in, in ages, that I would really like to own."
Believe me, this woman knows what she wants so this is a five-star rating.
It gets a five-star from me with the reminder that you must install the Wallbox home charging system.
If you're making a choice on electric vehicles this year, please finish with the Mercedes EQC 4matic. It is an electrifying vehicle. Badumdum.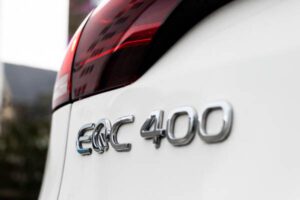 ---