---
Sustainability; everyone's talking about it, but few are doing something about it. Metropol caught up with fashion designer Maggie Marilyn and head of sustainable beauty brand Ethique, Brianne West about paying much more than lip service to the most pressing conversation of the century.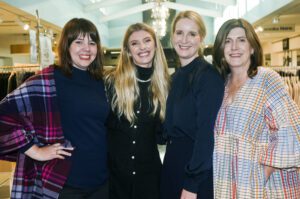 The subject of sustainability has been increasing in intensity over the past three years, Maggie says, but she believes there's a lot of talk and not a lot of action.
"In our industry, fashion apparel, there's no standard to hold you accountable to what you're saying that you're doing," she says.
"So it's very easy to say you're sustainably conscious or that you're transparent or that you use sustainably conscious fabrics, but what does that really mean?"
Having grown up on a farm in the Bay of Islands, she has long been environmentally aware, but hadn't connected the dots to the fashion industry.
"It wasn't until I got to university where this really unglamorous curtain was pulled back on the industry and I didn't like what I saw behind it," she says.
She spent the next four years learning everything she could about how to build a sustainable fashion brand and what that looked like.
"I feel lucky that we launched in a time when sustainability was gradually growing momentum, but I still think there's a lot of greenwashing versus actual proper work being done,"
Maggie says.
Catching up ahead of the pair joining designer Juliette Hogan and Kowtow's Emma Wallace as part of a sustainability panel hosted by Ballantynes pre-lockdown, the sisterhood of sustainability really got down to the heart of what it means to run environmentally-centric fashion and beauty brands.
Biologist Brianne West says sustainability in business is a must-have.
"If you don't have some kind of sustainability standard, most millennials and bugger all Gen Zs will shop with you. So if you don't have something sustainable – and unfortunately often it's fake – then you don't get a look in.
"Sustainability has gone beyond 'cool'. Now it's kind of a non-negotiable."
If the amount of consumer momentum Greta Thunberg has managed to create on a global stage, was created around a brand, the business would have no choice but to adapt.
So it's consumers that need to take responsibility for affecting change, by demanding transparency and by demanding fair trade.
"And consumers are already doing it, they just need to do it more and faster!" she says.
For fashion, that means shopping smarter.
"The fashion industry is the second greatest emitter of fossil fuels," Brianne points out. "Everyone goes on about air travel… stop buying clothes!"
And even if the sentiment seems detrimental to her own luxury fashion label, Maggie not only agrees with it, but it forms the basis of the Maggie Marilyn brand philosophy – one which sees slow fashion as the way of the future.
"It's not just about being in business to sell Maggie Marilyn clothes, but to change the conversation and, in turn, change our industry."
With unsustainable options becoming cheaper than ever before, it's about educating consumers about buying less, but buying well, with the value of re-sale and product lifespan making up the difference in price point.
"It's not actually the people who can't afford designer clothing that's the issue," Maggie says.
"It's the girl who goes to H&M and Zara and gets a new dress every Friday night, who could actually afford to buy a more consciously made product; it's the consumer that's the issue.
"It's about changing a whole mindset of mass consumption that we've just been in for the last 40 years. We're not going to unwind the situation in five minutes and that's something I have to remind myself of because I'm incredibly impatient!"
Over four years in business, the goal post has shifted for Maggie from what she thought a sustainably conscious brand would look like to where the label is now.
What she thought would be all about building a transparent supply chain, using fabrics that had the least negative environmental impact, and supporting and building a community of manufacturing in New Zealand, has expanded to measuring carbon emissions, to educating customers on garment care and after-life.
"Fifty percent of the impact clothing has from an environmental perspective is actually done after the customer buys it, so how they care for their clothes and what happens to that clothing once they've fallen out of love with it."
You'll find garment care instructions on the brand's website, detailing how best to look after your beloved pieces.
"Start by getting rid of your tumble drier! That's a way to ruin absolutely everything that you own. Gentle machine-washing clothes, hanging them in the sun… all those things can make a huge difference. Sometimes it's small, incremental changes that can make the biggest difference."
Maggie's new line, launched at the end of last year, is intended to become fully circular in time.
"It's designed to have a take-back scheme whereby the fabrics can be shredded down and repurposed into new fabrics and then into new garments, so eventually in our Utopian model of a brand, we wont use any virgin resources."
Ethique's products are already completely circular.
They are fully biodegradable, so if a packaged bar fell out the bathroom window, both the product and packaging would rapidly break down into something that plants can use to regrow.
Although naked products would be superior, retailers won't allow naked stock, so Brianne has the next best thing – packaging made in New Zealand from sustainably-sourced stock.
"For every tree they cut down, they plant two," she says. "
Ethique is also carbon neutral, double offsetting any travel.
They're working towards sea-freighting everything in the future, along with opening up warehouses in the UK, Australia and US to minimise the affects of global distribution.
She's passionate about her fair trade and charitable partnerships, with the company donating 20 percent of its profits to charity every year; a figure that's soon to double.
There are also some exciting carbon emissions plans Brianne is looking forward to announcing soon.
Meanwhile a circular business is also in sight for Maggie.
"It's definitely our Northern Star to be a fully circular business and it's not going to happen in five minutes; there are huge complexities to doing that in our main line and we are figuring it out with this new line we launched last year.
"Circularity is really key to being a fully sustainable brand and ultimately have a regenerative impact, so that's the goal."
---