---
The once fast-paced fashion industry known for constantly cycling through trends seems to be slowing down as many brands and consumers embrace sustainability.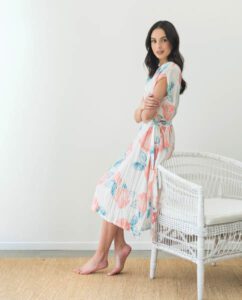 Here in Christchurch, Untouched World has been at the forefront of the movement since 1998.
It was the first lifestyle fashion company in the world to be recognised by the United Nations for sustainability and has since gained praise from big names like the Clintons, Barack Obama and Joanna Lumley.
Proud to be 96 percent New Zealand made and 100 percent passionate about protecting the planet, Untouched World's new summer collection combines sustainably sourced natural fibres with enduring designs to deliver all the comfort of a work-from-home wardrobe without compromising on style.
Strong believers in a less-is-more aesthetic, the company has carved out a niche for timeless, premium quality pieces that dress up or down with ease.
Their latest arrivals include luxurious linens that move effortlessly from meetings to meet-ups, and Tencel tops and dresses that are splashed with a soft, summery seascape inspired print.
Untouched World's signature ZQ certified Merino knits deliver a dose of uplifting warmth, while an airy recycled cotton capsule offers cooling coverage as the days heat up.
This season also sees the introduction of the CoolTree™ Collection, an ultrafine knitwear range made from an innovative new blend of Merino and Tencel.
On a mission to make a difference and share the feel-good factor with more than just those wearing their clothes, Untouched World donates a percentage of all sales to helping marginalised communities and to educating young people through their UN recognised Sustainability Leadership Programmes.
Shop sustainably this summer at Untouched World at 155 Roydvale Avenue in Christchurch.
---