Supra speedy, supra slick
---
The Toyota GR Supra has been the subject of plenty of gushing reviews by the motoring press since its launch in 2019. There is a good reason for this mind you, it is a properly fantastic sports car and continuation of the Supra name which laid dormant within Toyota's family for far too long. Now, within a year of being on sale, Toyota have powered up the GR Supra even more for 2021. We went to Hampton Downs Raceway to have a play.
The GR Supra has been the spearhead of Toyota and Toyota Gazoo Racing's efforts to reinvigorate the performance arm of the brand.
Power from the GR Supra's 3.0L twin scroll turbo straight six has been increased by 35kW, bringing the power figures up to 285kW.
This is the result of manifold redesign and relocation of those meaty twin turbos.
Torque figures stay the same at 500Nm, but a piston redesign means you get it all from idle right up to the north side of 5000rpm.
Add this together, along with the eight speed ZF automatic gearbox and kerb wight of 1570kg, and the GR Supra will reach the New Zealand speed limit in 4.1 seconds, 0.2 seconds quicker than before.
Little else has changed over the outgoing car, the GR Supra still comes with Active Differential, Variable Ratio Steering, Active Sound Control, Performance brakes package with red callipers and Toyota's Safety Sense Package.
However, a GR Supra Limited edition is available in a rather tasty looking Horizon Blue paint scheme.
The standard car is now $98,990, whereas the Limited Edition is the same $99,990 as the outgoing car.
So, out onto a rain-soaked Hampton Downs we went, first in the outgoing model, then in the new car, and boy can you tell the difference between the two.
That extra 35kW becomes apparent once you give it what for. From a low 1650rpm right to the redline, the next corner arrives much sooner than first expected.
Up shifts from the ZF auto box are still very slick, and that turbo six pot gives you a sweet-sounding bellow when shifting down.
Despite the wet weather, we were able to see the far side of 180km/h before standing on those performance brakes and turning in.
The steering is still so communicative and when the back comes out to play, which it often did during our wet laps, you can catch it again with relative ease.
The new GR Supra is not a hard car to drive fast, and very easy to handle when you get near the limit.
So, has extra grunt made the Toyota GR Supra better? You bet. Can't wait to test it off track on Canterbury roads in the new year.
---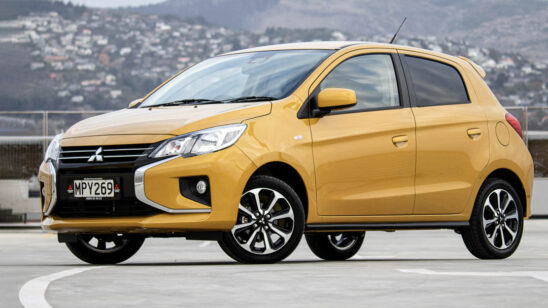 Previous Post