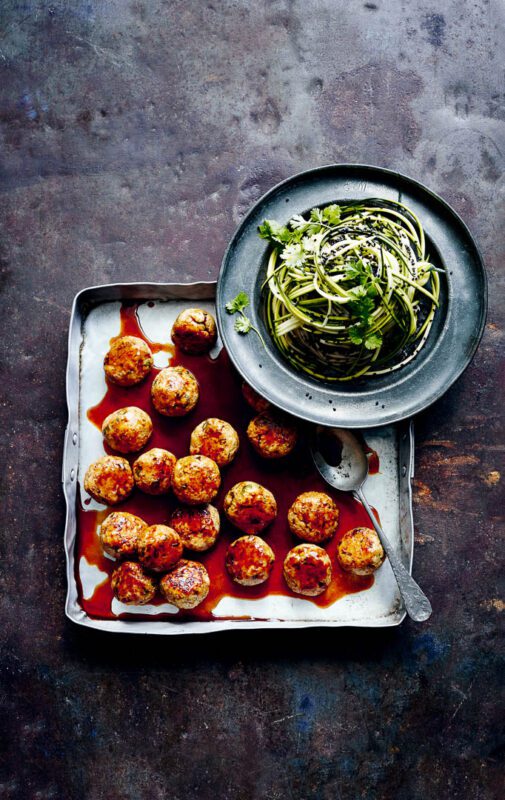 Sticky soy chicken with sesame noodles
---
Serves 4
PHOTOGRAPHY: CON POULOS
RECIPES AND STYLING: DONNA HAY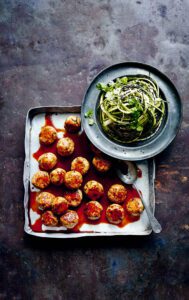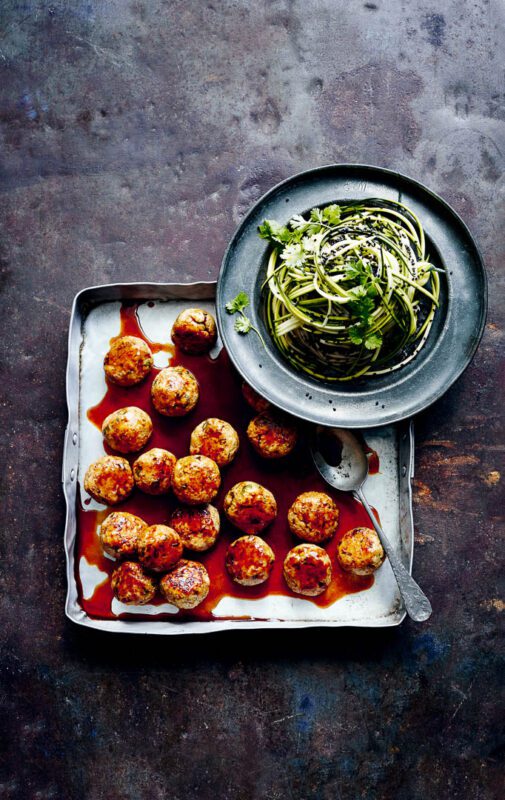 Ingredients
1 tbsp light-flavoured extra virgin olive oil
150g (5¼ oz) dried soba noodles, cooked
2 zucchini shredded using a julienne peeler
2 tbsp white or black sesame seeds
coriander (cilantro) leaves, to serve
chicken meatballs
600g (1 lb ¼ oz) chicken mince
¼ cup (50g/1¾ oz) white chia seeds
2 cloves garlic, crushed
2 tbsp finely grated ginger
2 tbsp hoisin sauce
1 large green chilli, finely chopped
2 green onions (scallions), finely chopped
sticky soy sauce
½ cup (125ml/4¼ fl oz) soy sauce
1 tbsp white miso paste (shiro)
¾ cup (180ml/6 fl oz) mirin (Japanese rice wine)
1 tbsp sesame oil
2 tbsp rice wine vinegar
¼ cup (90g/3 oz) honey
Method
Preheat oven to 220°C (425°F).
To make the chicken meatballs, place the chicken, chia seeds, garlic, ginger, hoisin, chilli and onion in a bowl and mix to combine. Roll heaped tablespoons of the mixture into balls, place on a tray lined with baking paper and set aside.
Pour the oil onto a large deep-sided baking tray. Bake for five minutes or until hot. Add the meatballs to the tray and bake for five minutes.
To make the sticky soy sauce, whisk together the soy, miso, mirin, sesame oil, vinegar and honey. Remove the meatballs from the oven and carefully pour the soy mixture over the meatballs. Return to the oven and bake for 15 minutes or until the meatballs are cooked through and the pan sauce is thickened.
To serve, place noodles and zucchini into serving bowls and sprinkle with sesame. Top with meatballs, sticky soy sauce and coriander.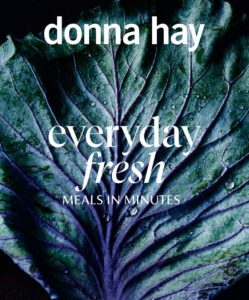 ---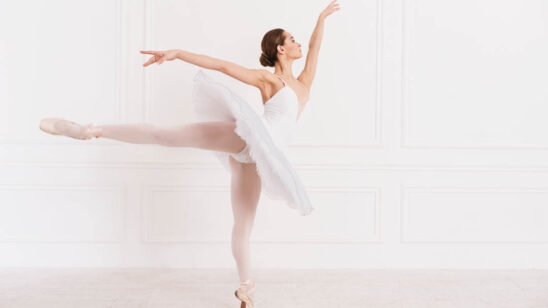 Previous Post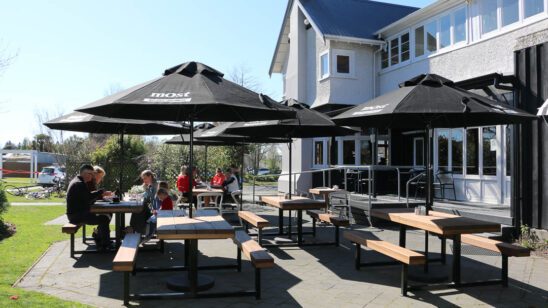 Next Post