---
The quintessential neighbourhood café, every community should have a Cosy Café. Locally owned and operated by Sam and Amy Lester, the couple celebrate their first year in the café this November.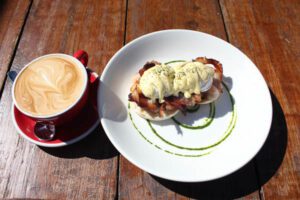 Amy has a background in retail – her rapport with regulars and new customers comes naturally, while Sam has changed careers and uncovered a spectacular natural talent for cooking and baking.
Full breakfast and lunch are on the menu as well as cabinet food with almost all of it created on site.
"Our scones and muffins are always popular and go down perfectly with the Hummingbird coffee that we serve the way you like it," says Amy.
Sam's favourite items are the famous Fairlie Pies. "We stock them in four flavours: Pork belly, Steak, Steak and Mushroom and Mince and Cheese," he says.
An attractive outside area is ideal for all season with its clear awnings to protect from a breeze, and ensures Cosy Café is the perfect destination if your coffee date is a furry companion.
Loyal regulars are the perfect testimonial, and Amy says they are enjoying seeing the new faces at weekends plus parents getting takeaway coffees for their Saturday side-line duties.
"We'd like to thank everyone that has supported us this tricky year," says Sam.
---