---
The philosophy at Culverden's Red Post Café is all about simple food cooked beautifully.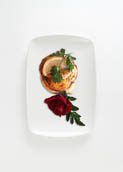 Locals keep coming back to enjoy the quality coffee and delicious menu options, all set amongst the picturesque country villa surroundings.
For more than 12 years, a long-time favourite dish has been the Salmon Souffle, a secret recipe that contains only salmon, spinach, potato, cream cheese, eggs and lemon.
The gluten-free meal makes a light and tasty dish served with salad.
Another popular item is the coated and pan-fried Blue Cod, which is also presented alongside salad and either fries or mash.
Belgian Waffles – introduced to the breakfast menu last year – is also following the other items as a real fan favourite.
The waffles are delicately toasted and served with grilled bacon, blueberries and drizzled with maple syrup.
Red Post Café, located at 2 Highfield St, is open Monday to Thursday from 8am to 4:30pm, Fridays 8am to 8pm and Saturday and Sunday from 8am to 5:30pm.
The menu caters for children and those with both vegetarian and gluten-free diets.
They can also host special occasions and functions, or provide catering platters so you can enjoy Red Post Café's delicious fare at your venue of choice.
For more information, phone 03 315 8492.
---