---
A rockstar Health and Safety Manager in Christchurch is concrete proof that success can take off in all sorts of directions.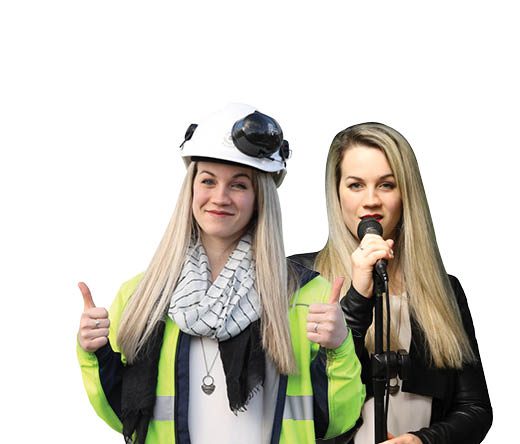 Steffany Beck was convinced as a six-year-old she would be asked to join the Spice Girls. "I used to slide along the kitchen floor in my socks with my hairbrush microphone and rehearse four times a week – I was going to be named All Spice," she laughs.
Instead, now 29, she began her construction career in admin at Horncastle Homes – promoted after six months to Health and Safety Co-ordinator, then Manager. She then joined Contract Construction in 2017 in her current role as Health and Safety Manager. "I just want to make sure everyone gets back to their families each night, as one day my dad didn't, so I know what it's like to not have him come home. I genuinely care about my team."
Steffany's dad died in a freak accident in Hanmer Springs in 2013. A skilled carpenter, Michael Beck had brought his family out from Portland, Oregon in 2006. With building in her DNA, Stephanie is fourth generation in the construction carpentry industry. "We always used to sing in the car together. He loved music."
When Steffany was 19, she won a national songwriting competition with I Have A Dream, appearing on the Erin Simpson Show. Next month she will launch her first EP of six songs. Two singles have already been released: Destined to You, a duet with her studio producer Eddie Simon, and her favourite, Worthy, a song about not feeling good enough, but still finding your worth.
The other four country-pop ballads include Blue Eyed Girl, which is the title of the EP, Heart Beats For You, Am I Too Late, and then the singer/songwriter rocks it out with catchy grooves in her weekend anthem, Good Times. "I enjoy being a self-managed artist as I know exactly what's happening – I get to steer the direction I want to go in creatively and not be put inside a cliché box."
The songstress says her schedule is non-stop. It's a 5am start most mornings with yoga and rehearsing, before her working day starts and there is something on most evenings. On top of her full-on but exciting double life, she volunteers as Events Co-ordinator for the Christchurch Chapter of the National Association of Women in Construction (NAWIC) and she also assists organising conferences for Health and Safety Professionals New Zealand (HSPNZ).
Contract Construction General Manager John Cleary says Steffany combines rare attitudes of being a team player and self-driven in a pressured environment. "And all this is done with a smile and a happy demeanour," he says. Steffany's co-ordinating skills and love of music was born from singing in church and looking after the Primary Sunday School programme. She's also auditioned for this year's Coca Cola Christmas in the Park.
"Dreams don't have a timeline," she says. "But if you keep consistently working at them – someday they'll come true. However, I couldn't have succeeded without my husband, Mingo, supporting and inspiring me day and night.
"Ultimately, I am drawn to health and safety, and music, as both are about connecting people and I can make a difference."
For the music links, follow her on www.facebook.com/steffanybeckmusic/
---