---
We can't think of a better family Sunday lunch or dinner than roast beef with all the trimmings – Yorkshire puddings, rich gravy and crispy roast potatoes.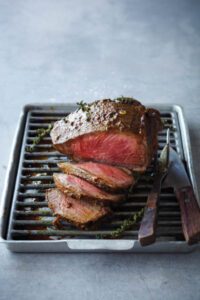 RECIPE SUPPLIED BY BEEF + LAMB NEW ZEALAND
Serves 6 
Ingredients:
BEEF
1.2kg Quality Mark beef bolar
SPICE MIX
1 teaspoon ground coriander
1 teaspoon cumin
1 teaspoon curry powder
1 teaspoon sweet paprika
½ teaspoon dried oregano
Good pinch dried red chilli flakes
2 cloves garlic, crushed
¼ cup oil
Juice of ½ lemon
CRISPY ROAST POTATOES
1.5kg floury potatoes, peeled and cut into halves
¼ cup oil
25g butter
TO SERVE
• Your choice of roast seasonal vegetables
• Gravy
• Yorkshire puddings
(find recipe at www.recipes.co.nz)
METHOD:
BEEF
Combine all of the spice mix ingredients together in a small bowl. Rub over the beef bolar and place on a wire tray on a baking dish. Reduce the oven temperature to 200°C and place in the oven to roast for 40-45 minutes for medium-rare beef.
Remove beef from the oven and place on a warmed plate, cover loosely with foil and a clean tea towel and leave to rest.
CRISPY ROAST POTATOES
Place potatoes in a saucepan of salted water and bring to the boil. Reduce the heat and allow to simmer for 5-8 minutes, just so they are slightly soft around the edges. Drain and place saucepan back over the heat. Shake saucepan to dry off potatoes. Score the surface of each with a fork to scruff them up.
Place oil and butter into a roasting dish and place in oven to heat. Add potatoes, tossing well so that every surface is covered. Roast for 45 minutes at least until thoroughly golden and crisp. Sprinkle with a little salt before serving.
TO SERVE
Serve slices of beef with the potatoes, peas, gravy and Yorkshire puddings if you wish.
---