---
Our tummies are at the top of mind when it comes to the top trends for the coming year, with digestive health dominating our culinary picks.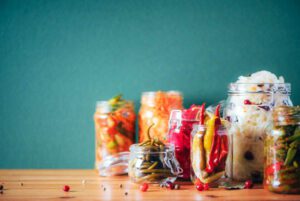 While we have long sought to get more fibre and probiotics into our days, as research continues to demonstrate strong links between gut health and total mental and physical wellbeing, we're increasingly stepping this up with the addition of prebiotics and fermented foods.
FIBRE-LICIOUS FOODS
The research jury is out; high-fibre foods such as legumes, beans, peas, oats, bananas, berries, asparagus and leeks have a positive impact on gut health, helping to keep the digestive tract flowing.
VERSATILE VEGES
Garlic and onion are versatile ingredients packed with prebiotic fibre and some studies suggest these may be even better for your gut than the fibre in some fruits, vegetables and whole grains!
PACK IN THE PROBIOTICS
Fermented foods such as kimchi, sauerkraut, yoghurt, tempeh, miso and kefir are packed with probiotics, which help balance the friendly bacteria in the gut. Best part? They taste great.
CLEVER COLLAGEN
Collagen-rich foods such as bone broth and salmon are understood to be beneficial to gut health. Foods like mushrooms, some dairy and certain meats offer dietary ways to get your collagen fix.
---