---
Packed with protein, vitamins, minerals, amino acids and prebiotics, tempeh is the superfood on everybody's lips right now. Because, although food innovation has given us a variety of plant-based, vegan and vegetarian options, the original meat substitute has proven it's not going anywhere.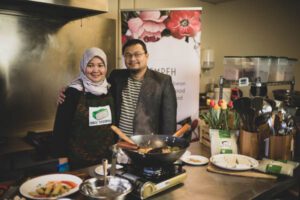 Tempeh is now tempting locals who are making their way to culinary hotspot, the Riverside Markets, to get their own locally made tempeh fix from Indo Tempeh House, headed by Aji and Nana.
Like tofu, tempeh is made from soybeans however, where tofu is made from coagulated soy milk, tempeh is made from fermented soybeans – so it's great for your gut health.
"It's the best option for meat substitutes and it is so good for you," Aji says.
Nana was renowned for her cooking in her hometown in Indonesia, Aji says proudly. "When we came to New Zealand in 2007, tempeh was hard to find – and expensive!"
So Nana set out to master the culinary art of tempeh. Spoiler alert: she did!
The couple first launched Indo Tempeh at the Opawa Farmers' Market two years ago to provide locals with unique vegetarian and vegan dishes inspired by their hometown and their love of tempeh.
Nana's reputation quickly spread and, from there they made their way to the Lyttelton Farmers' Market before opening in Riverside in October last year.
As well as providing fresh and frozen tempeh to keep in your own fridge, Indo Tempeh also offers ready-to-eat Indonesian classics, from hearty curries to delish satay and rissoles.
---