---
The word is out and you'd better believe it – bar carts are back!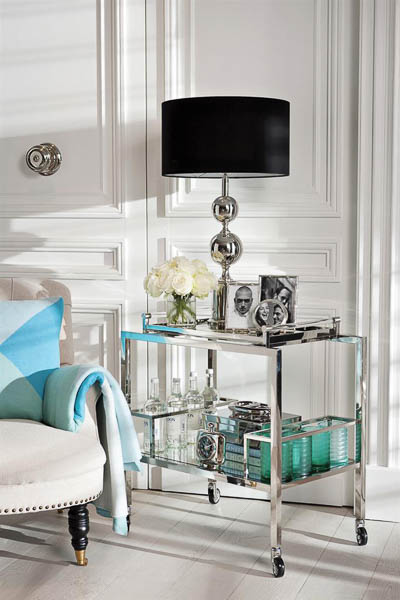 From bespoke French cabinetry models through to art-deco Hollywood-glam and retro stainless-steel models, the bar cart is your mobile, multi-tasking must-have – something your grandmother could have told you years ago! So, wheel on in the star of the show and please, do note how beautifully it's dressed.
Top Shelf: soda siphon, whiskey, gin, vodka, brandy, rum, Campari, sparkling wine/champagne, orange liqueur (Curaçao, Cointreau or Grand Marnier), vermouth and aromatic bitters.
Bottom Shelf: shaker tins (small and large), pint glass (for stirring), jigger (for measuring), bar spoon, Hawthorne strainer plus mesh strainer, tonic and soda water (it must be both!), sweet syrup in a glass jug (equal parts sugar and water) Collins glasses, rocks glasses and ice.
On Standby: lemon, lime, paring knife, y-peeler, juicer and measuring cup.
Make mine a whisky on the rocks. Cin Cin!
---