---
Quiche, whether served hot or room temperature, is a versatile vessel for abundant autumnal fillings. Packed for a picnic, prepared for a party or famished family, local seasonal ingredients come alive when encased in a flaky or buttery shell.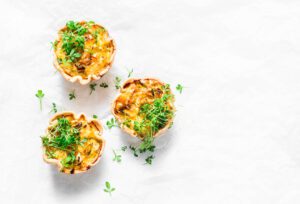 With origins in Germany and France, it's the Kiwi-as ingredients that have revitalised the classic quiche. Think a juxtaposition of at least three, for texture and taste, with these autumnal pairing partners.
Butternut pumpkin, sage or fennel, with roasted pinenuts or hazelnuts, are synonymous with falling leaves.
Ripened pears are eagerly awaited this time of year. A local blue cheese becomes their ultimate bed partner atop pastry sheets and toasted walnuts complete the romance.
Whether you call them zucchini or courgettes, they make a fine filler in an autumn quiche. Mild in taste, yet adding zing with the likes of feta, mint, parmesan, and sweet little cherry tomatoes.
Autumn hails the arrival of foraged fungi, whether plucked from the woodlands, farmers markets or local deli.
Mealy field mushrooms, Italian porcini, paler-fleshed delicate oyster mushrooms, and meaty shiitake all add their magic.
Quiches are a wonderful way to sneak in the health benefits of April's flourishing super greens, such as kale, parsley or even nasturtium leaves.
And laden with the piquancy of local cheeses, they will rival the South of France – banishing any preconception of eggy blandness. Even the burgeoning vegan versions are divine.
Go generous on fillings and flavours. Aotearoa's autumn harvest is abundant. And thanks to the inspirations of our artisan foodies, a quiche is an epicurean open book to go wild with.
---