---
The Cathedral Grammar Pre-School is a small family-orientated community-based education centre for boys and girls, located in the grounds of The Cathedral Grammar School's central city campus.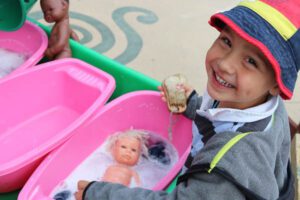 Director Lyndell Turner leads a team of caring early childhood staff who possess a deep understanding of how young children learn.
"Each teacher is responsive to individual interests, strengths and abilities.
They listen closely to children, support them to develop a wide set of skills and share their ideas," Lyndell says.
"Our pre-school philosophy values play as an instrument in stimulating and shaping child development and early learning. Through planned and spontaneous play experiences, children form relationships, share, cooperate, develop self-control, test ideas and friendships, extend their range of experience and form associations among things, events and concepts.
"Our programme has developed a balance between child-centred and adult-led play, together with a sense of structure. We also value extended blocks of time for children to make discoveries, to elaborate on projects and to evolve a script in symbolic play."
The pre-school children are fortunate to be located on the grounds of The Cathedral Grammar School.
This means access to numerous activities and resources such as specialist art, music, yoga, library and physical education teachers which add value to an already strong and varied programme, as well as access to the school vans to go off-site for weekly gymnastics lessons.
At Cathedral Grammar, they recognise it is a great privilege to partner with families in supporting the educational journey of their children.
Learning is designed as a continuous pathway.
This means whole school alignment of curriculum and pedagogy, and a shared responsibility of student learning realised through a strong and cohesive team approach.
Their Pathways to School programme has been specifically designed to ensure that your pre-school child has the best possible start to school and introduces your child to the foundations of numeracy and literacy through a balance of structured play based interactions, whilst building relationships and connections with junior school staff and children in familiar environments.
The pre-school can currently offer places to prospective enrolments. For more information and centre tours, please contact their Registrar, Nicky Oram on 03 365 0385 or email enquiries to oramn@cathedralgrammar.school.nz.
---