---
Rugged, remote and thriving with rich history and spectacular wildlife, the West Coast and its pristine wilderness makes it one of the country's most treasured gems. We explore some of the wonders of the Wild West!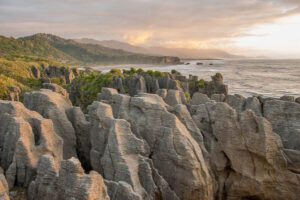 West Coast Treetop Walk
Lake Mahinapua, 12km south of Hokitika
Adventure through the canopy of ancient Rimu and Kamahi trees – 20 metres off the ground! – and enjoy sensational vistas of the majestic Southern Alps and the Tasman Sea. An exhilarating experience for the whole family, the West Coast Treetop Walk is a must-visit for locals and tourists alike. Pram and wheelchair friendly!
---
Lake Matheson
State Highway 6, 162km south of Hokitika
Situated near the Fox Glacier village and surrounded by ancient forest, this picture-perfect body of water is a photographer's dream! On a still day, you can capture an astonishingly clear mirror image of the snow-capped peaks of Aoraki/Mount Cook and Mount Tasman reflected on the lake's surface. 
---
Shantytown Heritage Park
316 Rutherglen Road, Paroa, 10km south of Greymouth
Family road trip? You'd be silly not to stop at Shantytown Heritage Park! Travel back in time and immerse yourself in the sights, sounds and smells of this recreated gold-mining settlement. Here you'll discover the rich history of the region with gold-panning demonstrations, steam train rides, an old-fashioned steam-driven sawmill, a hologram story experience and more!
---
Oparara Basin
McCallum's Mill Road, 25km north of Karamea
Calling all nature enthusiasts! Nestled in the picturesque Kahurangi National Park lies the Oparara Basin, a magnificent geological treasure awaiting your discovery. This other-worldly wonderland boasts impressive limestone formations and is home to the Powelliphanta – large carnivorous snails. In nearby Karamea you'll also find the Honeycomb Hill Caves, which are world-famous for their collection of Moa bones and other extinct bird species.
---
Punakaiki Pancake Rocks and Blowholes
Between Westport and Greymouth
They say great things come in small packages and this is certainly true of Punakaiki, nestled comfortably between Westport and Greymouth. It's known mostly for the natural wonders bestowed up on it in the form of impressive pancake rocks and blowholes. Take a horse trek through the scenic landscapes, go rock climbing, bouldering and caving in the limestone formations, or paddle the Pororari River by canoe.
---