---
Who would have thought a love of dressing old-school paper dolls in the early '50s would transform into an award-winning design at the World of Wearable Arts Awards.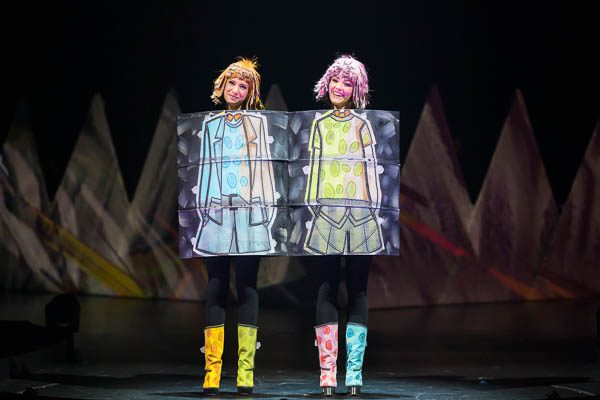 Placing second for her Dress-up Dolls entry in the Transform section of this year's competition, Meg Latham coincidently grew up where WOW originated 31 years ago – Spring Grove.
Meg won her first award amongst competition from 115 finalists and entries from 43 countries. She first entered in 1994, and then intermittently until 2003, before returning in 2018 with 'Titty Tote' – a handbag bra conjured from recycled leather and zips, with handles that became bra straps.
As a young girl, she created everything from scratch from what she could find.
"I loved paper dolls, but I preferred to design my own outfits, other than the ones they came with."
Her mum was a keen sewer, and her dad an inventive jack of all trades. Little Meg created alongside him, even using a welding and soldering gun. Twin-sister Fleur Stewart, also an artist, also collaborated with two of her WOW designs over the years. "We were a self-contained family, having fun, and making things."
Although spending most of her career in Nelson working as a professional ceramic artist, Meg now calls Motueka home. Life took on a new direction when Meg began creating mixed-media portraiture. The craft utilises her digital imagery and graphic design skills attained from draughting and cartography training.
"Instead of old recycled materials, I use materials like plastics and resins to lay over digital imagery. Many are offcuts and fabric samples a builder or decorator would use – otherwise destined for the skip.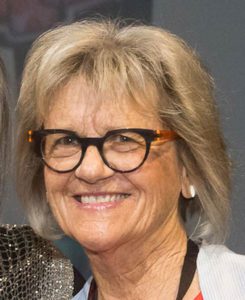 In September, two models became Meg's Dress-up Dolls – magically performing a costume change on the WOW stage, from blues and pinks to green, yellow and orange.
"I had actually been planning the Dress-up Dolls design over the last five years. Construction of the garments only took four weeks, but there was an awful lot of time put into how it all works – from the technicalities and ensuring the models are comfortable and the outfits durable.
"The dresses were created from canvas-covered polyethylene plastic cylinders that kind of folded into themselves. The costume changes transformed, just like opening the pages of a book. It's almost trickery – hard to describe and explain it!"
Although Meg recognises the high-tech world that lends the wow-factor to the show, such as lasercuts and 3D printing, she embraces technology on a modest "low-tech" level.
"Hands-on construction is how I like to put it," she says. "The best of the both worlds."
Meg is amazed there has been very little repetition of ideas in the years of the event. "There's a fine line between fancy dress and wearable art. I have to constantly think about the direction I'm taking. I also like my garments to have an element of fun and lightness."
Already well into planning her creation for next year, Meg says it will remain top secret until the big reveal on stage in 2020 if successful.
"I just love the process," she reiterates. "I almost don't want it to end – I savour every moment. Seeing it finally come to life on stage is just a bonus."
Meg Latham's Dress-up Dolls are on display at WOW Museum in Nelson. Her unique portraits are also showcased at Nelson's Parker Gallery.
---