---
Kitchen cupboards starting to look worn or dated? Here's a novel idea: throw them away!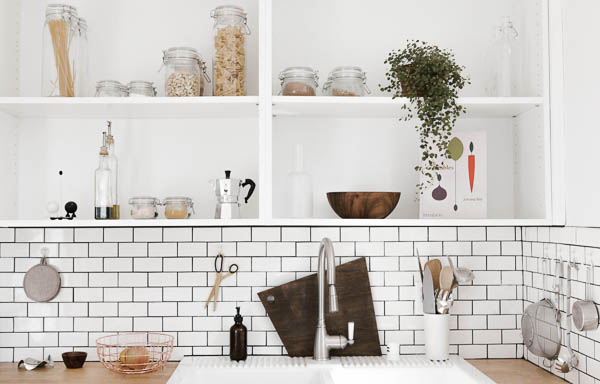 The spaces within our sanctuaries have gone from minimalist to maximalist in the past few months and, with it the need to pretend there is no 'stuff' has gone out the window. Inspired by hotel and retail spaces, open shelving is adding to the bold statements we are seeking to make in our homes.
That doesn't mean we need to put all the clutter on display. Much like styling throw pillows on a couch, there's quite an art to styling your open cabinets. Start with a palette determined by existing colour schemes then take the opportunity to be creative with the decorative process by adding boxes, jars, draped plants and other items.
Neutral palettes are always a great place to start. White dishes, wooden cutting boards and creamy or clear canisters provide a base that is easy to switch around for special occasions or when you get bored.
Art is an easy way to bring colour and personality to your open shelves. Glass storage jars of varying sizes and heights add both form and function. If in doubt, Pinterest and Instagram are a prime store of inspiration.
Combine cook books and kitchen items. Books can be neatly arranged horizontally or vertically. Top stacks with small objects and then throw in larger items, such as vases, for variety. Finally, open shelving is a blank canvas for careful and curated arrangements that give visitors an insight into you and your family, so make it yours!
Simple but effective, open shelving allows you to add a touch of your own personality or store extra ingredients. It also comes with a level of accountability – with nowhere to hide mess, keeping the space tidy is a must and it does mean you should probably eschew that old chipped dinnerware.
---