---
It can only be called a complete experience – not simply a cafe and a store, but a destination with so much variety and pizzazz you need hours to take it all in. Set in the quaint and picturesque village of Cust is Route 72 Cafe & Emporium, a country cafe/ bar and retail outlet.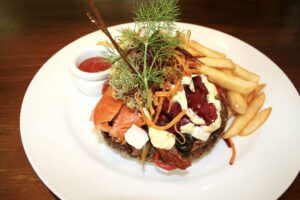 Marrying tempting culinary dishes with an impressive range of gifts, clothing and other treasures – there can be few more enticing rural spots for an end of year group or workplace celebration.
It's just a 40-minute drive out of the city to this relaxing environment.
Choose from the extensive menu for breakfast, brunch or lunch while dining upstairs and admiring the stunning views over the Cust River and valley and to the mountains beyond.
Replete with the delicious food, you can hit the shop – and what a shop it is, a real Aladdin's Cave.
Christmas gifts for the whole family are here – everything from art and homewares, to candles, skincare, gemstone jewellery, shoes and handbags.
Are you a lover of quality fabrics? Then the Helga May clothing range of mainly Italian linen is for you.
It's a unique linen range that is "edgy", utilising bright colours and prints that are a little bit different.
Discover this North Canterbury gem at 1697 Cust Road. Phone (03) 312 5595.
---