---
There's a fun new local activity that's set to drop, giving the Canterbury tourism industry a much-needed boost.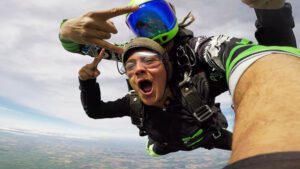 GCH Aviation, the parent company of Garden City Helicopters, is partnering with Skydiving Kiwis to bring skydiving to Sumner Beach,
"This is a totally new product in New Zealand tourism and that's a great place to be," says GCH Aviation Group Marketing Manager Caroline Blanchfield.
"Some might think that this is a strange time to bring a new product to market, but this is exactly the time to innovate and launch a new tourism experience to put Christchurch on the domestic and later the international map. It really will appeal to Kiwis looking for a new thrill," Caroline says.
Skydiving Kiwis has been a successful tourism venture in Ashburton for over a decade and hopes to bring skydiving into Christchurch as well as Hanmer Springs.
Director Lee Barraclough says the award-winning tourism operation has been working hard on these two projects for nearly two years and is now in the final stages of being able to take Cantabrians skydiving over the Sumner coastline.
"We only plan four flights a day at the start and that small section of beach will only be cordoned off for 20 minutes at a time, before other people can use it again," says Lee, who is a resident of Sumner and wants to make ensure his operation becomes a treasured asset to the suburb and not a burden.
"It is our aim for Sumner residents to enjoy the skydivers, but also for other businesses to benefit from the visitors we bring into Sumner."
While the New Zealand tourism industry is fearing the near future without foreign visitors, Lee is confident the domestic appetite for adventure will enable many adventure activity businesses to create a sustainable and innovative business model.
"We can reimagine our tourism industry. Instead of competing, we can collaborate, like with the Adventure Park, to offer a compelling package to visit Canterbury, or for Cantabrians to enjoy their own backyard."
---