---
Our feet are often taken for granted and are commonly one of the most neglected body parts. Out of sight, out of mind seems to be a common theme and many people will hide their feet inside shoes rather than expose them to the world.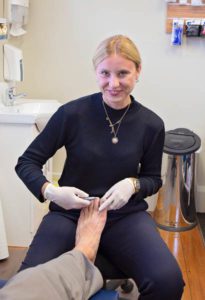 Footprints Podiatry has the tools to help; with the only Lunula Laser treatment option in Christchurch, Footprints is restoring beautiful nails and restoring confidence to your summer season.
Agata Zanko has joined the Footprints team as a Foot Care Technician. Arriving from Poland, Agata loves to travel and brings a wealth of European footcare knowledge with her.
She is passionate about restoring nails and general footcare, as well as helping Footprints establish a new, truly remarkable service.
Keryflex is an exciting addition to the footcare range offered by Footprints Podiatry.
Keryflex is a safe, in-office application that restores the appearance of an individual's natural nails.
The system allows a qualified provider to remodel an individual's nails affected by fungus, defects and trauma.
The composite resin creates a flexible, non-porous nail that allows the remaining natural nail to grow.
The Keryflex nail is an immediate cosmetic improvement, providing a natural-looking nail.
It is durable and unaffected by acetone, nail polish or detergents. Following treatment using Lunula Laser, many current patients are choosing to use the Keryflex Nail Restoration system while their fungal nails continue to resolve.
Head into Footprints to see if Keryflex is right for you.
---