---
Christchurch-based apparel maker, Cactus Outdoor, has added a new product to its repertoire: Locally made face masks which use bacteria-busting natural wool filters.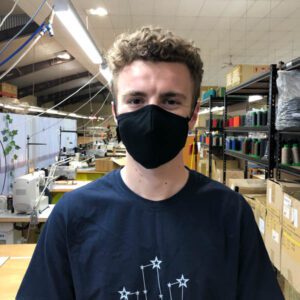 Originally developed for dust protection before Covid-19 made face masks an essential item, Cactus Outdoors have manufactured tens of thousands of the mouth and nose coverings from its Christchurch factory since February.
Co-founder and director, Ben Kepes says the locally made masks have been snapped up.
"We developed the facemask before Covid-19 for our trade customers," he says.
"When Covid-19 hit we ramped up production to fulfi l the massive demand." The masks have a woollen filter which exceeds high N95 testing levels.
"Our masks feature a high-tech fi lter made from a specialised woollen fabric.
"To this we add organically grown cotton fabric to provide another layer of protection."
Despite supply chain issues, Ben says the durable outdoor clothing, backpack and accessory maker's Essential Service status meant production could continue during Alert Level 4.
"The fact our filter exceeds N95 levels…is made in New Zealand from natural materials, uses our amazing New Zealand-grown wool and is made with love by Kiwi workers has gone down a treat."
• Good business story? Nominate a local business innovating to overcome Covid-19 challenges at editor@metros.co.nz.
---