---
'Love the journey'. That's the Quinn Homes motto and genuine message to clients.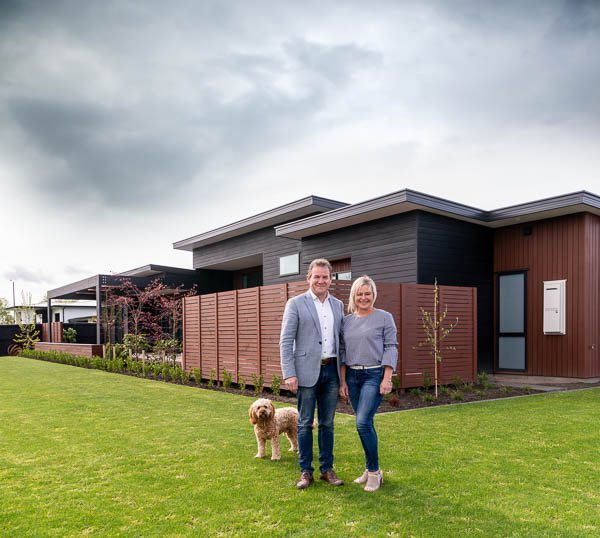 "Taking the stress away is what we always do best," says hands-on owner Peter Quinn.
"People often tell me how much of a stress-free experience they've had – and the most enjoyable journey; hence our motto."
The small operator specialising in impressive middle to high-end new-builds has only Peter and Linda Quinn, and mascot Benji the Cavoodle, at the helm. "We are a home-based business with low operating costs. We keep it that way to be adaptable for whatever the clients wants.
"Building a home is about people foremost," says Peter, who oversees every project while remaining in close liaison with clients during the whole process.
He says a common question on people's minds is, 'what if the building company goes bust?'
"We don't require any money upfront. Our clients pay for the work only when completed, and in stages. All the risk is taken on by us. We pay our tradies on time, or even early. That's how we've always operated."
The all-rounder spent 30 years in the building industry, mainly as a Sales Representative for Placemakers and Resene Construction.
"I'll often get asked 'why I haven't done this sooner' but all the experience has got me to where we are now. The company started out with spec-builds a decade ago, until four years ago when word-of-mouth clients kept us busy, and we continue to expand. We've got a great reputation out there."
Architectural detailing is a Quinn Homes specialty. "It's exciting for me to bring in new ideas and products that stand out and have that wow-factor. I absolutely insist on a quality finish, and work closely with two teams of great builders, and our architectural designers and subcontractors who are aligned with our high reputation. There's no project manager – I'm it!"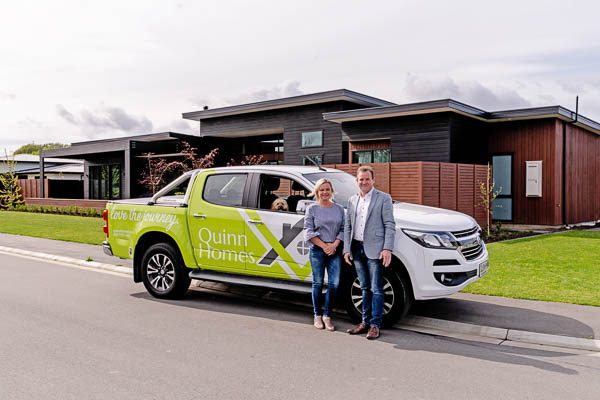 Peter says the building industry's mass production style is not for him. "We don't have 20 houses on the go, so we're available for clients, while still achieving a good turnaround. My after sales service is also paramount. We'll always stand by our reputation."
Peter firstly meets clients in their homes for a no-obligation discussion – invariably the beginning of a trusted bond.
A people-person with a relaxed, jovial personality, he says clients love that they can call him up day or night, and he'll answer concerns and put them at ease. "We'll often go out to dinner with clients. I even call one of them mum and drop by for scones!"
Back-office work and accounts are seamlessly administered by Linda. "We've even got compliments from the solicitor on our good systems and tidy variations," she says.
Linda attends client meetings for the all-important kitchen and interior design decisions, ensuring the best fit for the family's lifestyle. The stunning interiors are designed by renowned Fiona Renton of Sandalwood Design, and outdoor areas are transformed by Debbie Rimmer Landscapes, who both complement the brand.
Attending meetings, taking clients appliance shopping, and guiding them all the way is all-important to the husband and wife team.
"Peter is so great when he's got a lot on. He's fantastic – and so organised," Linda says. "Juggling 10 balls in the air is no problem! No matter how busy he gets, clients get full attention."
Quinn Homes is well represented in Christchurch from Prebbleton and Halswell through to Pegasus Bay. Homes from 250 to 450sqm are often graced with a spacious 3.5m stud, or using a combination of heights.
"We're happy to work with people's own plans too, or help them choose the perfect parcel of land," says Peter. "I've also developed a flow chart, so there's plenty of time to get excited and prepare for each stage."
This year was the first time Quinn Homes entered the Master Builder of the Year Awards, coming away with a silver medal in the $750,000 to $1 million category for a Prebbleton home.
"Our goal is to go for gold next time."
---