---
United Fisheries has established itself as a leading family-owned Christchurch business, providing quality seafood to the local market and across the globe.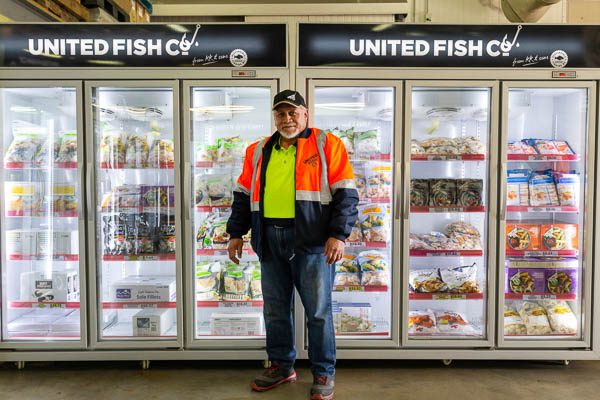 Founded by Kypros Kotzikas in 1974, it has grown from modest beginnings to become one of the top 10 seafood companies in New Zealand. Nowadays, Kypros' four sons, and a grandson, are all involved in taking this business to the next level across its wide scope of fishing, marine farming, production, and marketing ventures. They also own several established mussel farms, as well as having contracts with other farms, which provide a secure supply of Greenshell™ Mussels and Pacific Oysters.
National Sales Manager Jason Sare says the company is 100-percent New Zealand-owned and operated and proud to be a sustainable fishery. While all United Fisheries' products are available in stores across the country, the place in Christchurch to get access to a wide range of seafood products, alongside friendly service, is the dispatch area at their Parkhouse Road address.
Behind the counter, you'll find Brownie Kirkwood, who has been with the company for 35 years. He and the team offer top-quality advice and expertise. The freezers are stocked with a variety of fish options, prawns, scallops, mussels, dumplings, and much, much more. Nothing goes to waste at United, as they also sell liquid fish fertilisers and pharmaceuticals.
The shop is open Monday to Fridays, 7:30am-4:30pm, and from 9am-12pm on a Saturday.
The United Fisheries team is excited to take the next step in their proud history this month, opening The Little Fish Co. in the Riverside Markets in late September.
---