---
It's all about hearty belly laughs – even in times of adversity – for this Kiwi icon of comedy.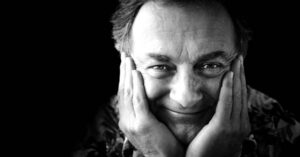 Peter Rowley is an actor well-loved by those who were glued to the telly in the 70s, 80s and 90s.
He was the straight guy in many a Kiwiana satirical series, such as McPhail and Gatsby, and most notoriously, the Billy T James Show, of which Peter also wrote the scripts with his late, great best-bud Billy. More recently he stared in 2018's Mortal Engines.
This eternal funny guy still rocks the enthusiastic energy he's infamous for, even at the suave age of 68.
During Stage 4 lockdown he got up-close and personal with his 'lockdown comedy' on Facebook every single day.
The rendition of traditional funny-bone ticklers, showcased his repertoire of impersonations, accents and elastic expressions – adding the odd sound effect with a click of a talented tongue.
He does a Billy Conolly arguably as good as the Scotsman himself. Being too PC or polite doesn't feature in a Rowley script. It's comedy in its riotous raw. A
"I resonate with today's straight-shooting comedians like Ricky Jervis and I admire Spike Milligan for introducing absurdity into comedy."
Being exceptionally observant is his recipe for creating good comedy.
At this year's World Buskers Festival, he took to the Spiegeltent stage for the Palaver Grand show. "My happy place is stand-up comedy, so I'm all for its resurgence."
Born in Timaru and Christ College schooled, he became the "funny boy" so people would like him – and his grandmother was also a comedian.
Peter's been ensconced back in Christchurch where he grew up, since 2018, after a stint as a Central Otago radio jock.
Prior to that, Peter lived in Melbourne, acting in shows such as Underbelly and Neighbours… and even a Viagra commercial!
"I was pretty much an unknown over there, until I walked into a pub and mentioned I was the voice of Dog in the movie Footrot Flats: A Dog's Tale. It was all matey hugs and beers after that! The Aussie's love it."
Son of a wartime fighter pilot, Peter's other passion is flying and he's also enjoyed MCing and livening up many a corporate event.
A voluminous CV of screen and stage stints has led to opportune moments, like having a cuppa with Joan Collins and smoking a cigar with Tommy Lee Jones and Dudley Moore.
This comedic character once owned a Russian Vodka bar.
And recently he conjured up the recipe to his own gin label.
Unsurprisingly christened Laughing Club Gin, the tasteful tipple of London Dry style botanicals, has a beguiling backstory involving Singapore's Raffles Hotel, sea voyages and British Kings – well matched to its rather glam Art Deco logo.
And why gin? "Because you can always have a great laugh with friends over a really good gin – responsibly of course!"
A boutique Marlborough distillery is preparing for production. "We'll use a traditional copper still to produce a top-quality mellifluous mouthfeel, which will be PH perfect."
Peter, who bounced back from a heart attack in 2005, is even more in tune with his creative life mission.
His advice to artists and entrepreneurs?
"It's courage. When you don't have fear, then you can allow yourself to be brilliant.
Take your life and make it into the best story in the world!"

---