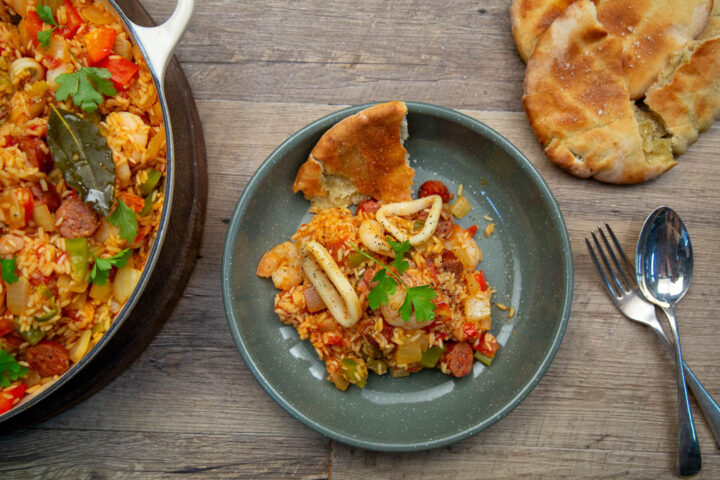 Jambalaya in a jiffy: United Fisheries
---
Recipe supplied by United Fisheries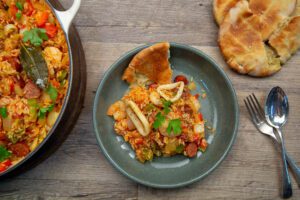 Serves 4-6 | Prep 20 mins | Cook 30 mins
INGREDIENTS
Cooking oil
4 rashers streaky bacon, cut into
2cm pieces
5 Hellers Spanish Chorizo sausages, sliced 1cm thick
1 large onion, roughly chopped
½ green capsicum, diced
½ red capsicum, diced
1 stalk celery, diced
1 ½ cup long grain white rice
½ tsp cayenne pepper
1 tsp turmeric
2 tsp Gregg's Creole Spice
1 dried bay leaf
½ cup + 1 Tbsp white wine
1x 400g tin crushed tomatoes
1 ½ cup chicken stock
250gm Sea Cuisine Raw Prawn
Meat or Cutlets, defrosted.
250gm Sea Cuisine Squid
Rings, thawed.
Fresh parsley, to garnish
METHOD
Heat a large pot over medium heat with oil. Add bacon and chorizo, cook until sausages turn golden brown.
Add the onions and cook until softened. Add celery, green and red capsicums and garlic. Cook for another five minutes, stirring occasionally.
Add rice, turmeric, cayenne, and bay leaf and stir continuously for one minute. Add the ½ cup wine, tomatoes and chicken stock. Increase heat to high and bring the liquid to a boil. Reduce to low heat, cover, and simmer for 10 minutes.
While the rice is cooking, season the prawns and squid with salt and pepper, and remaining wine. After the rice has simmered, fold in the prawns and squid. Cover again, continue to cook over low heat for another five minutes until prawns and squid have just cooked through.
Turn off the heat, keep the lid on to let everything rest for five minutes.
Fluff the jambalaya with a fork, garnish with parsley and serve with toasted garlic bread.
---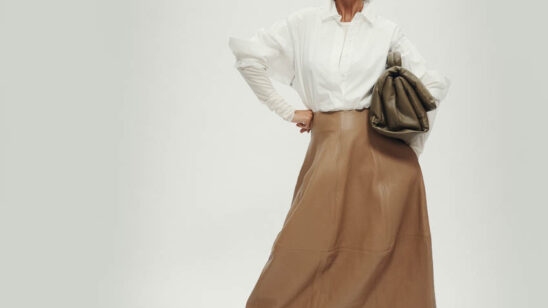 Previous Post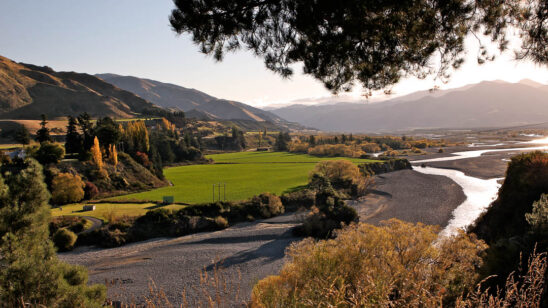 Next Post