---
When cooked up young (not ripe) and seasoned right, jackfruit tastes like sweet and savoury, perfectly pulled pork or tender and juicy shredded chicken. From tacos to enchiladas and salads, jackfruit has become a go-to ingredient.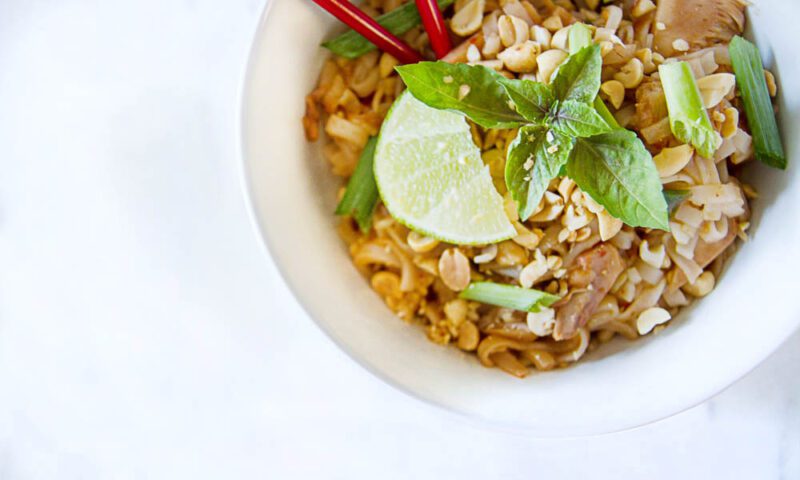 INGREDIENTS
12-ounce package rice noodles
2 tablespoons peanut or vegetable oil
4 cloves garlic, minced
5 green onions, sliced
1 10.6-ounce package Upton's Naturals Chilli Lime Carnitas Jackfruit
1 cup fresh bean sprouts
Sauce
2 tablespoons tamarind concentrate
Juice of 2 limes
1/3 cup soy sauce
1/3 cup brown sugar
3-4 teaspoons chili sauce, to taste
Garnish
1/2 cup chopped peanuts
1/3 cup sliced green onions
Lime slices
METHOD
Soak noodles in a large bowl of hot water for 30 minutes to one hour, or until the noodles are softened. Mix together all of the sauce ingredients in a small bowl.
Heat the peanut oil in a large wok or skillet and stir fry the noodles for two minutes. Add the garlic, green onions, and jackfruit, then stir in the sauce. Cook for another four to five minutes, adding the bean sprouts in the last minute.
Plate the Pad Thai and garnish with chopped peanuts, sliced green onions, and lime slices.
---