---
Landmarks of Christchurch old and new have been recognised at the 2020 New Zealand Property Industry Awards recently, with other Canterbury projects receiving praise, too.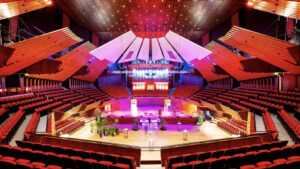 The restored Christchurch Town Hall and the new Riverside Markets both won best in category for the Naylor Love Heritage and Adaptive Reuses Property Award and Yardi Retail Property Award, respectively.
The Town Hall recognised the work of Hawkins, Christchurch City Council, Octa Associates Limited, Warren and Mahoney, Holmes Consulting, Cosgroves, Tonkin and Taylor and Emily Fryer Conservation, while Riverside Market's entry was submitted by Riverside Limited.
Judges recognised the on-budget and on-time delivery of the Town Hall's refurbishment, which was less than building a new facility. Riverside drew attention for not only scooping Auckland's Westfield Newmarket, but for "providing a benchmark for the 'new Christchurch'."
The Ngā Puna Wai Sports Hub submitted by AECOM was awarded excellence for the Holmes Group Tourism and Leisure Property Award, and He Puna Taimoana swimming pool complex in New Brighton submitted by the council received a merit in the same category.
For the Greenstone Group Education Property Award, the Beatrice Tinsley Building at the University of Canterbury Christchurch submitted by the University of Canterbury received excellence and Shirley Boys' & Avonside Girls' High Schools submitted by ASC Architects took home merit.
The awards, hosted by the Property Council New Zealand celebrate excellence in design and innovation in the built environment.
---