---
It is all in the name for Luke Gardner, a Canterbury landscaper who has grown into the profession of which he was named.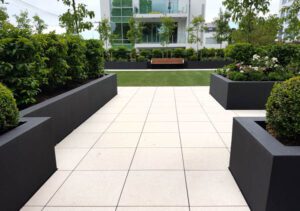 Luke is behind the eponymous LG Landscape, which offers innovative and stylish design solutions for all landscaping services. He says turning bare outdoors into idyllic living spaces is his MO.
"We can create custom designs to match any environment – whether it's a traditional garden for a heritage home, something modern or something completely unique and different, we can do it."
Recent jobs include a Japanese-inspired design and build, which featured an arched red moon bridge, water feature and minimalist greenery interspersed with varying stone and gravel paving work.
LG Landscape has also completed larger scale commercial work, like a lush courtyard at the heritage Kamahi Apartments, Rosebank Winery and Waterloo Business Park.
Luke says good landscaping lies in the experience, knowledge and skills of the landscaper as much as it does in their creativity. Designs need to not only account for aesthetic results, but use quality materials and greenery which is suited to particular environments.
"A good landscaper needs to know as much about the technical parts of the work as they do about coming up with creative and aesthetically pleasing solutions for people's homes and businesses," he says.
LG Landscape specialises in landscape design and construction, paving, decking, plants, lawns, irrigation, water features, and custom installs.
Call 021 257 1846 for more information and a free quote.
---