---
The Pump House on Tuam Street is one of "those" places. If you revel in entire buildings of curios, collectables, movie props and salvage items such as timber, iron gates, windows, doors, kitchens, church pews, baths and toilets, you will already be a Pump House fan!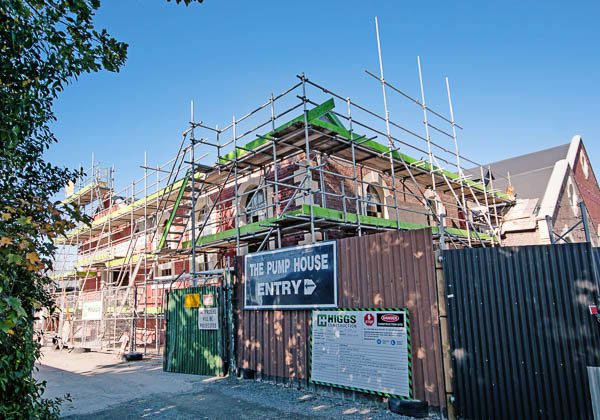 "These are architectural antiques," says Paddy Snowdon, co-owner of City Salvage Contractors, which operates The Pump House. It's a collection of buildings built in the 1880s as the central focus of Christchurch's (then) modern, new sewerage system. By the 1950s, the plant was no longer needed and in the late 1980s Paddy and wife, Jackie, bought it.
Earthquake repairs started in late 2017 are nearing completion. "We're pretty happy with the progress," Paddy says. "Higgs are doing a great job." Higgs Construction Project Manager Johnny Clark is managing the work and says, "we've done quite a lot of masonry improvements and cosmetic work over and above the earthquake strengthening".
The restoration was not in the strengthening strategy, but Paddy says once work started it was apparent that it urgently needed doing. In addition to their own investment, Paddy and Jackie are grateful for grants from the CCC Heritage Incentive Grant Fund and the Govt Heritage EQUIP fund enabling the project to go ahead.
Due for completion by the end of the year, The Pump House remains open for business, with Sales Manager Bruce Nikolaison keeping the yard ticking over and still enjoying the challenge after 30 years in the job. The new look Pump House will continue to be a part of Canterbury history, purveying architectural antiques. It's a labour of love. "I've just got a passion for old buildings," Paddy says.
---